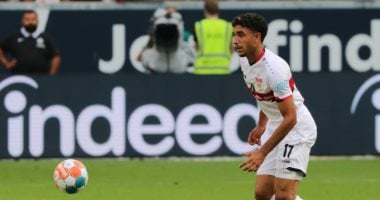 Egyptian international Omar Marmoush, player of Stuttgart and loaned from Wolfsburg, became the sixth Egyptian player in history to score in the German League, after he scored the equalizer against Eintracht Frankfurt in the match that took place between them on Sunday afternoon in the fourth round of the "Bundesliga".
Omar Marmoush scored in his first participation today with his new team, where the player succeeded in providing an outstanding performance that made him the best player in his team during the match.
Omar Marmoush was preceded by 5 Egyptian players who scored goals in the German League, and they are Hani Ramzy, a former player of Kaiserslautern and Bremen, Ahmed Salah Hosni in Stuttgart, Mohamed Zidane of Borussia Dortmund, Mainz and Hamburg, Yasser Radwan of Hans Rostock, and Samir Kamouna of Kaiserslautern.
Omar Marmoush became the second Egyptian player to score with the Stuttgart team after Ahmed Salah Hosni, who played in the German League years ago and starred strongly with him.
Omar Marmoush
Omar Marmoush, the loaned Wolfsburg striker, was instrumental in his first official match with Stuttgart after moving in the last days of the summer Mercato.
Marmoush participated in a friendly match for Stuttgart at the beginning of this month against Nuremberg, which ended with a 3-0 victory, before being substituted in the 72nd minute of the match.
Stuttgart occupies the tenth place in the German league standings with 4 points collected from one win, two losses and a draw, while Eintracht Frankfurt is in the 14th place with 3 points from 3 draws and a loss.
Stuttgart was keen to welcome its new player, Omar Marmoush, through a tweet on his Twitter account immediately after his transfer, in which he said: "Hello Omar, awaiting the medical examination, the 22-year-old will join VfB until the end of the season."