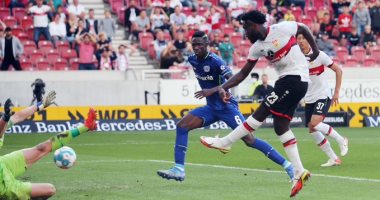 Stuttgart, the professional in its ranks, the Egyptian striker Omar Marmoush, lost to its guest Bayer Leverkusen, 3-1, in the meeting that brought the two teams together today, Sunday, at the "Mercedes-Benz Arena", in the fifth round of the German Bundesliga "Bundesliga" for the current season 2021 – 2022.
Omar Marmoush participated with his team, Stuttgart, in the entire match, but he did not manage to beat Bayer Leverkusen.
Leverkusen ended the first half of the match with a 2-1 lead. The visitors' goals came through Robert Andrej and Patrick Schick in the second and 19 minutes, and Stuttgart's goal was scored by Orel Mangala in the 38th minute.
And Bayer Leverkusen player Robert Andrich was sent off in the 31st minute at the age of the match.
In the second half, despite the numerical shortage, Leverkusen managed to add the third goal in the 70th minute through Florian Wirtz.
Stuttgart's balance stopped at 4 points in the fourteenth place, while Bayer Leverkusen raised its score to 10 points in third place in the German league table, which is led by Bayern Munich with 13 points.
Marmoush scored in his first appearance with the Stuttgart team against Eintracht Frankfurt in the last round, in the match that ended with a 1-1 draw.
The young Egyptian striker joined on loan during the last summer Mercato for the Stuttgart team from Wolfsburg, which became the focus of attention by the Portuguese coach Carlos Queiroz, to play the two matches against Libya next October, in the qualifiers for the 2022 World Cup.