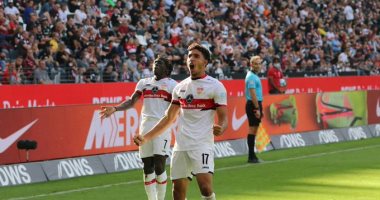 Egyptian striker Omar Marmoush, player of the Stuttgart team, expressed his great happiness by scoring his first goal with his new team, and achieving the result of a draw against Eintracht Frankfurt, in the match that was held on Sunday evening at the "Commersbank Arena" in the fourth round of the German League championship.
Omar Marmoush said, in statements to the official website of Stuttgart: "I am very happy with my goal in the match. The whole team showed a good character today. I think we deserved this point with our position. The match was a great challenge to show my capabilities."
The hosts advanced through Philip Kostic in the 79th minute of the match, before the Egyptian international Omar Marmoush equalized in the 88th minute of the match..
Omar Marmoush was preceded by 5 Egyptian players who scored goals in the German League, and they are: Hani Ramzy, former player of Kaiserslautern and Werder Bremen, Ahmed Salah Hosni in Stuttgart, Mohamed Zidan of Borussia Dortmund, Mainz and Hamburg, Yasser Radwan of Hans Rostock, and Samir Kamouna of Kaiserslautern.
Omar Marmoush became the second Egyptian player to score with the Stuttgart team after Ahmed Salah Hosni, who played in the German League at the beginning of the new millennium and starred strongly with him.
Omar Marmoush
The Egyptian Omar Marmoush, the loaned striker of Wolfsburg and the former Tigris Valley, was essential in his first official match with Stuttgart after moving in the last days of the summer Mercato..
Omar Marmoush participated in a friendly match for the Stuttgart team at the beginning of this month after joining, during the international break, against Nuremberg and ended with his team winning three, before being replaced in the 72nd minute of the meeting..
Stuttgart occupies the tenth place in the table of the German League standings with 4 points, collected from a win in one match, two losses and a draw, while Eintracht Frankfurt is in the fourteenth place with 3 points from 3 draws and a loss..