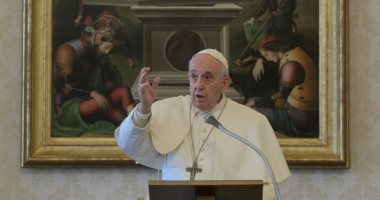 Pope Francis called on the countries of the world, today, Friday, in his Christmas message to make Covid-19 vaccines available to all, saying that the barriers of national tendencies cannot stop a pandemic that does not recognize borders between countries.
And Francis made his usual speech entitled (To the city of Rome and the world) from inside the Vatican, and it was broadcast over the Internet, instead of delivering it from the central balcony of St. Peter's Basilica in the presence of tens of thousands of visitors.
The epidemic and its social and economic consequences dominated the message of Francis, in which he called for the unity of the world and the assistance of countries that fluctuate in the embers of conflicts and humanitarian crises.
"At this moment in the life of history, with the environmental crises and serious economic and social imbalances that are exacerbated by the Coronavirus pandemic, it is extremely important that we recognize each other as brothers and sisters," he said.
He stressed that health is a global issue, criticizing what appears to be the so-called "vaccine nationalism", which UN officials fear will worsen the pandemic if poor countries are the last to receive the vaccine.
"I hope (God will) revive in the political leaders and government leaders the spirit of international cooperation, starting with health care, ensuring that everyone has access to vaccines and treatment. In the face of a challenge that does not recognize borders, we cannot erect fences. We are all in the same ship," he said.
Italians spend a large part of the Christmas and New Year holidays under lockdown measures. These restrictions would prevent visitors from coming to St. Peter's Square or the church to attend papal ceremonies, which have all been moved inside.
Francis called for peace and reconciliation in Syria, Yemen, Libya, Nagorno Karabakh, South Sudan, Nigeria, Cameroon and Iraq, which he is scheduled to visit in early March.