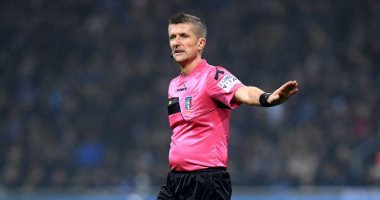 The European Football Association "UEFA" announced the referee for the match between Benfica and Barcelona, ​​which is scheduled to be held tomorrow, Wednesday, in the second round of the group stage matches of the European Champions League, at the "Al-Nour" stadium.
The Italian Union appointed Daniele Orsato, 46, to manage the match between Benfica and Barcelona in the Champions League 2021-2022 season.
Italian referee Daniele Orsato managed one match for Barcelona in the Champions League, and that was in the 2016 edition, when he defeated Celtic, Scotland, 2-0..
Orsato led three matches for Benfica, winning one and losing two, winning (2-3) over Anderlecht in the 2012-2013 season, and losing in the 2018-19 season, 5-1 in Munich against Bayern in the group stage, Then he lost 2-0 in Frankfurt in the second leg of the European League quarter-final against Eintracht Frankfurt.
It is worth noting that Barcelona is at the bottom of the Champions League group E table, without a balance of points, while Bayern Munich leads the standings with 3 points, and behind it is Dynamo Kiev, in the summer, with one point, and then Benfica in third place with a goal difference.