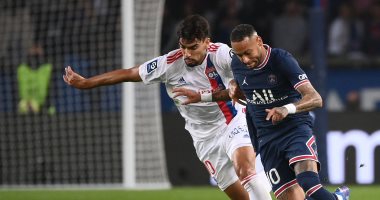 Lucas Paqueta scored the first goal of the Paris Saint-Germain match against Lyon in the 54th minute, after receiving a cross that turned it into Donnarumma's goal, in the match currently being held at the Parc des Princes in the sixth round of the French League championship for the current season 2021 / 2022.
The two teams, Paris Saint-Germain and Lyon, drew 0-0 during the first half of their current match.
The first half witnessed continuous attempts by Lionel Messi to score the first goals, as he missed a great opportunity in the 32nd minute, after he dribbled a number of players inside the penalty area, but he placed it next to the post.
In the 37th minute, he was given a fixed kick from in front of the penalty area and put it on the crossbar that grabbed the hearts of the fans, who crawled to watch the brilliant star during the match.
At the beginning of the match, Lyon tried to resort to high pressure along the field in search of an early goal, and launched many attacks, but it did not work, after which the acquisition moved to Paris Saint-Germain.
The formation of Paris Saint-Germain was as follows::
Goalkeeper: Donnarumma.
Defence: Nuno Mendes, Kimpembe, Marquinhos, Thilo Keirer.
Midfield: Idrissa Guy, Herer, Lionel Messi.
Forwards: Di Maria, Mbappe, Neymar da Silva.
While the formation of Lyon was as follows:
Goalkeeper: Lopez.
Defence: Giusto, Boateng, Denier, Emerson.
Midfield: Kakeri, Bruno Moura, Shukridan Shaqiri, Lucas Paqueta, Karl Ekambi.
Offensive line: Islam Soleimani.
The Paris club leads the league standings with 15 points, while Lyon is in seventh place with only 8 points.
Paris Saint-Germain seeks to continue victories in the tournament in order to stay in the lead and not give it up to anyone, as it has not lost any local match so far, especially since it won all the first five meetings in the league and occupies first place in the competition table with 15 points.
Paris scored the largest result between the two teams, and won five goals against one goal last season in the French Cup semi-final, and Mbappe succeeded in scoring a hat-trick, and the last result between the two teams ended with Paris also winning four goals against two goals in the league championship.
Messi moved in the summer transfer period to Paris Saint-Germain in a free transfer deal after the failure to renew his contract with Barcelona due to the economic and structural obstacles to La Liga and the high salary mass in the Catalan team.
Messi appeared for the first time with Paris Saint-Germain this season during the Stade Reims meeting in the French League, where he participated for 24 minutes before playing a full meeting against Club Brugge in the first round of the Champions League, and he is still waiting for his first goal with the French team.