The Lyon team is a heavy guest against Paris Saint-Germain at the Parc des Princes at 9:15 pm today, Sunday, in one of the most important matches of the French League in the sixth round competitions.
The Argentine coach, Mauricio Pochettino, announced his team's list for tonight's match, which included:
Donnarumma, Navas, Hakimi, Keirer, Kimpembe, Marquinhos, Mbappe, Paredes, Rafinha, Danilo, Rico, Vinaldom, Herrera, Diallo, Nuno Mendes, Idrissa, Ibembe, Draxler, Icardi, Neymar, Di Maria, Messi.
The injured quartet, Juan Bernat, Sergio Ramos, Marco Verratti and Ismael Gharbi continue to be absent from the team's squad.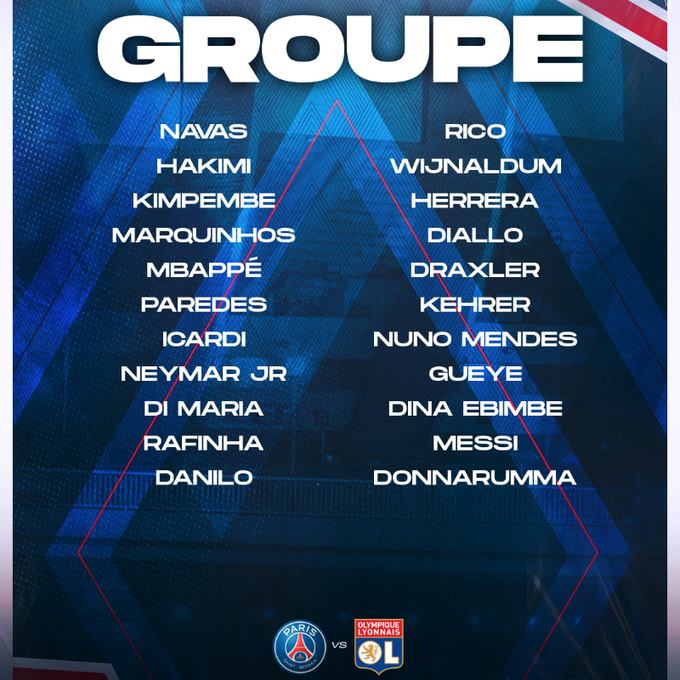 The Paris club leads the league standings with 15 points, while Lyon is in seventh place with only 8 points.
Paris Saint-Germain seeks to continue victories in the tournament in order to stay in the lead and not give it up to anyone, as it is He has not lost any local match so far, especially since he won all the first five matches in the league and is ranked first in the competition table with 15 points.
Paris scored the largest result between the two teams and won five goals against one goal last season in the French Cup semi-final, and Mbappe succeeded in scoring a hat-trick, and the last result between the two teams ended with Paris also winning four goals against two goals in the League Championship
While Lionel Messi is expected to participate with Paris Saint-Germain against Lyon today.
*Messi moved in the summer transfer period to Paris Saint-Germain in a free transfer deal after the failure to renew his contract with Barcelona due to the economic and structural obstacles to La Liga and the high salary block in the Catalan team..
Messi appeared for the first time with Paris Saint-Germain this season during the Stade Reims meeting in the French League, where he participated for 24 minutes before playing a full meeting against Club Brugge in the first round of the Champions League, and he is still waiting for his first goal with the French team..