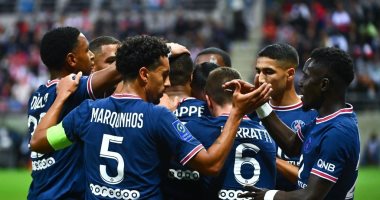 Paris Saint-Germain and Italian Napoli are unique in the five European leagues, "Big 5", during the current season 2021-2022, after more than 5 rounds have passed, achieving the full mark in their leagues.
Paris Saint-Germain managed to top the French Ligue 1 table with 21 points, after winning all seven matches it played this season, against Troyes, Strasbourg, Brest, Reims, Clermont, Lyon and finally Metz.
The Parisian team scored in 7 rounds of the French League 20 goals, as the strongest offensive lines in the competition, and conceded 7 goals, and the companions of Argentine star Lionel Messi play their eighth match in the French League against its guest team Montpellier on Saturday evening.
In the Italian League, Napoli leads the top of the competition standings with 15 points, after winning its five matches this season against the clubs, Venice, Genoa, Juventus, Udinese and Sampdoria.
The stars of the Italian South team scored 14 goals as the second most scoring club in the competition behind Inter Milan, who has 18 goals, and conceded only two goals, as the strongest defensive lines.
The Napoli team succeeded in achieving the full mark in the first 5 matches of the Italian League for the third time in its history after the 1987-1988 and 2017-2018 seasons.
The Partenope team will play its sixth match in Calcio this season against its guest, Cagliari, next Sunday evening.