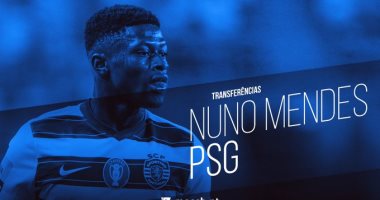 French club Paris Saint-Germain announced the signing of Nuno Mendes, left-back from Portuguese club Sporting Lisbon, on loan with the right to buy for 40 million euros.
According to Italian journalist Fabrizio Romano of "Sky Sport", the loan amount will be 7 million euros.
Mendes participated with Sporting Lisbon in 35 matches last season, during which he scored one goal and assisted two goals.
This summer, Paris Saint-Germain signed Lionel Messi, Georgino Wijnaldum, Sergio Ramos, Gianluigi Donnarumma and Achraf Hakimi.
There was a great struggle over the Portuguese player, which was eventually limited to Manchester City and Paris Saint-Germain, before the French club won the race, after he resolved matters with his agent during the past hours.
Paris Saint-Germain leads the French league standings after 4 rounds with 12 points from 4 victories.
— Paris Saint-Germain (@PSG_inside) August 31, 2021