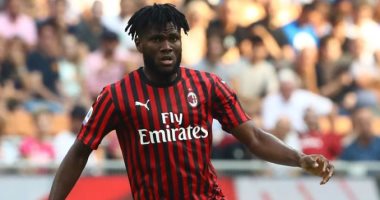 Paris Saint-Germain is engaged in a fierce struggle with Barcelona to include Ivorian international Frank Kessie, AC Milan midfielder, next summer. The renewal of Frank Casey's contract with Milan, which expires in June, has not yet been decided, amid interest from several clubs to join him in June 2022.
And according to the French "Le 10 Sport" website, the Brazilian sporting director of Paris Saint-Germain, Leonardo, aims to include Milan midfielder Frank Kessie, whose name has been linked to a move to Barcelona next summer.
The site added that Barcelona is putting Ivorian Frank Kessie, AC Milan midfielder, as an alternative plan for the failure to include Frenchman Paul Pogba, the Manchester United playmaker.
But at the same time, Barcelona collides with Paris Saint-Germain's strong desires to include the Ivorian star, which will constitute a major conflict between the two parties next summer, in the event that his contract is not renewed by Milan.
Frank Kesey is distinguished by his superior technical abilities in the middle of the Milan stadium, and he plays offensive and defensive roles at the same time on the field.
Frank Casey starred remarkably with Milan last season 2020-2021, scoring 14 goals in 50 games he played in the Rossoneri shirt..