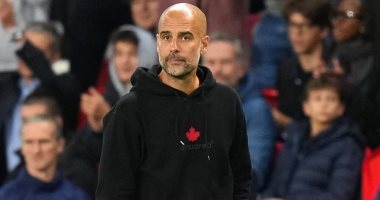 Pep Guardiola, coach of Manchester City, confirmed that his team dominated the Paris Saint-Germain match, but unfortunately failed to find the net, in the confrontation that the latter settled in his favour, 2-0, this evening in the Champions League competition for the current season 2021-2022.
Guardiola said in his statements after the match: "We controlled the match, but unfortunately we were not able to score," adding, "Paris did not make much effort to win, they have great quality in their team, everyone knows that, we played well but did not score goals, we should have let's record."
Guardiola added: "The last ten minutes were better, we performed well and did everything, we defended well, counter-attacks are always dangerous with the players they have. Greetings to the team. Sometimes we win and sometimes we lose."
Regarding the goal scored by Lionel Messi, Guardiola commented, "Leo Messi's goal was wonderful. He made me very happy in Barcelona. If he is happy in his current period with Paris, I am very happy."
Guardiola praised the level of Marco Verratti with Paris Saint-Germain, saying, "Let me say that I adore Marco Verratti, I really love him, an exceptional player, and you can count on him, I am happy that he is back from injury."
Senegalese Idrissa Gueye scored the first goal for Paris Saint-Germain in the 8th minute of the match.
The Argentine star Lionel Messi scored the second goal for PSG with a superb shot in the 74th minute of the match, and this goal is the first signed by the flea with Paris Saint-Germain after he moved to him during the last summer transfer period from Barcelona, ​​Spain.
Paris Saint-Germain leads the Champions League Group A standings, after raising its score to 4 points, ahead of only Club Brugge, runner-up with the same balance of points, with the same balance of points, while Man City came third with 3 points, and Leipzig is bottom of the standings without any points.