Paul Gallen fought a brave fight but was ultimately stopped in the 10th round after enduring a brutal onslaught from Olympic-bound Justis Huni in Sydney.
Key points:
Justis Huni beat Paul Gallen by TKO in the final round of their 10-round heavyweight bout
Gallen was handed the first defeat of his 13-fight career to move to 11-1-1
Huni, who moves to 5-0 professionally, will aim to become Australia's first Olympic boxing gold medalist in Tokyo next month
Gallen was completely outclassed by the vastly superior boxing skills of his 22-year-old opponent, losing every round on the scorecards.
However, the 39-year-old's heart could not be questioned as he withstood a furious barrage of body shots that the former NRL man later claimed broke his ribs as early as the second round.
"Big shout out for Gal, he put up an awesome challenge," Huni said after the fight
"He's very tough. He's definitely built different," he added, paying tribute to Gallen's impressive durability.
Standing 13cm taller and weighing in 7kg heavier, Huni clearly out-matched Gallen not only in boxing ability but physically, and he used that range early to establish a gap and pick off Gallen with rangy shots to the body.
That punishing body-work was a feature of the fight.
Huni tenderised Gallen with repeat shots to the torso to expertly sap his energy — although one minor quibble would be that he too often failed to follow those shots up with head work with Gallen's guard lowered.
Gallen, who came into the fight with an unbeaten professional record — albeit against a motley collection of former footballers and out of shape fighters — was as game as could be expected.
He repeatedly looked to close the distance — as he did so successfully against Mark Hunt — lowering his head and charging in to Huni in an attempt to unsettle the man 17 years his junior.
At no stage was Gallen clumsy in his advances though, speaking to the vast improvements he has made in his boxing ability since he first donned the gloves professionally in 2014.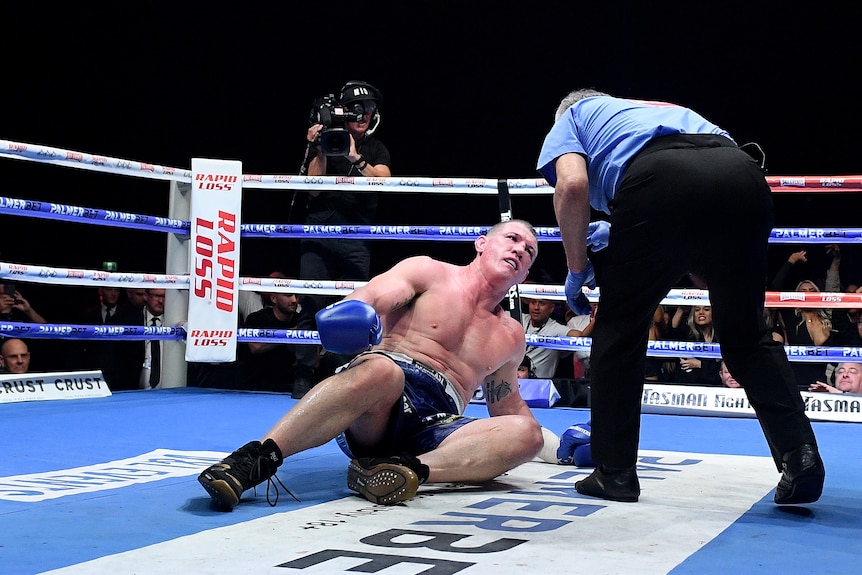 He even landed some healthy shots of his own as he came forward, but Huni's ring-craft and lightning-fast hands were sufficient to see him skip in and out of range most effectively — and punish Gallen as he came and went.
Whenever Gallen surged forward and landed, either to the head or body, Huni would respond with notable and barely restrained aggression, as if to warn his 39-year-old opponent against taking such liberties again. 
"He was fast, so fast," Gallen said.
As the fight went on, the repeat body shots clearly took their toll.
Gallen got wearier and sluggish, just as Huni stepped up the pace and started to bully him around the ring despite complaining to his corner of fatigue in his arms.
If there was fatigue from Huni, it did not show, as Gallen's increasingly feeble flurries of activity were being returned with more and more interest.
Although, despite Gallen ending the fight out on his feet, tellingly, the punches kept on coming right until the last.
With the finish line in sight and a credible, if overwhelming, points defeat almost within reach for Gallen, Huni landed a monster left onto his jaw, finally sending him wobbling to the canvas.
Gallen gamely stood and attempted to trade once more — he seemingly knows no other way — but mercifully the referee stepped in to end any further punishment.
While Gallen's future in the ring remains unclear, with a rematch option potentially available for after the Olympics, Huni's is certain: a trip to Tokyo and a shot at becoming Australia's first Olympic boxing gold medalist in the super heavyweight division.
"Hopefully [I will] make you all proud and bring back the gold medal," Huni said.
Re-live how the night unfolded, including the undercard, in our live blog.
Live updates
Thanks for your comments
Thanks for logging on and being with us for that everyone.
Full credit to Paul Gallen for the way he applied himself, but Justis Huni, as many expected him to be, was a class above.
The wrap is now above these updates, so refresh your browser to see that.
Corbin Middlemas was ringside in Sydney, he'll be filing some analysis for tomorrow morning, so make sure you come back to the site for that as well.
We'll be back for more live boxing action when Tim Tszyu takes on Michael Zerafa on July 7, but until then, see you soon.
thanks Simon, Enjoyed the quality updates

-Bob
Excellent blog thanks Simon!!!!

-Gary
Thank you Simon and ABC for the live blog. A cut above the others, like Huni.

-Andy
Final thoughts
I get the feeling Huni could've ended the bout in the early rounds but took the opportunity to condition himself over the full ten. Not taking anything away from Gallen's courage, it was exceptional, but the class disparity was enormous.

-Johnny the Boy
Hopefully Paul gives it away for the sake of his family and his health.

Congrats Justis you were awesome and to top it off a very nice bloke

-James T W
Followed the fight / great commentary, and Huni a tough Boxer ,Gallen a credit to the sport .

-Steve
Awesome to see the way Gallen is always willing to talk, both fighters are true champions and deserve everything they get

-Tim
Was that good preparation for Justis Huni?
Thanks for updates Simon?
Good luck Justis in Tokyo. He's got to thank Gallen for the physical and mental hit out if he wins gold. Hope he can recover 100% before he goes

-Peter
Yeah I think you're right.
Those were excellent rounds to help condition Huni, although what I would say is that professional boxing like that is very different to the style of boxing we'll see in the amateur ranks.
Huni just told Main Event that he did not show everything there, and that might be true as Jeff Fenech was pleading in commentary for him to throw more rights after all the good body work.
If he used that as a conditioning exercise to work on a specific skill, that would have been good for him.
If it took Hunis 10 rounds to beat a guy 17 years older and a non-professional boxer, I cant see him going too far over the next five-years.

-Slapper
Look, I get your point, Slapper,
But Huni was very much fighting an amateur style there, staying at range, picking the shots that are easily seen by judges at range.
He showed enough skill at times to get excited about, particularly with those fast hands. But he's 22 years old. There's a lot of learning to be done before he takes on anyone decent in the professional heavyweight ranks.
I think you might not be giving Gallen enough credit… 
Thanks for the blog, Simon. Well done. Gallen tough as teak and brave and seems to have earned a lot of respect in defeat.
Audience comment by Russell
One thing Gallen hasn't lost tonight is fans, what an effort!!<br>Awesome to see the talent we have in Australia boxing
What chance does Huni have in Tokyo for a medal? Gallen deserves a medal for courage.

-A. Fan
He's definitely a solid chance.
Australia has won two silver medals, the last in 1988, so if he does do it, he will be Australia's first boxing Olympic gold medalist.
Just watched the fight and Huni won every round. Prizefighter or boxer. Boxer every day of the week. good on you Gal for putting in such a tough effort.
Gallen: 'I think he broke my rib'
Here's the defeated Paul Gallen.
"I'm a prize fighter, I'm as competitive a person as there is," Gallen said on his ability to stay and get punched.

"He knocked me down fair and square … I think he broke my rib in the second round."
Gallen said Huni was incredibly tough.
"He was fast, so fast, and he probably punched a bit harder than I thought he would," Gallen said.

"I know I'm here for the cash, but it was pretty good to fight for an Australian title."
Justis Huni pays credit to Paul Gallen
Here's Justis Huni.
"Big shout out for Gal, he put up an awesome challenge," Huni said.

"He's very tough. He's definitely built different," he added, after being asked how hard he was to put down.
What's next for Huni? The Olympics, obviously, then a pro career.
"Obviously after I accomplish all my amateur dreams,I will come back and change my style into a professional style.

"Hopefully [I will] make you all proud and bring back the gold medal [from Tokyo]."
Justis Huni wins by TKO
It needed the referee to step in in the 10th round, but what tremendous heart from Paul Gallen.
Audience comment by Damien
Wow, Huni is a class act and has now proved that against a man with tremendous heart, great effort by Gallen but incredible perseverance by Huni
Go Huni, he really is a cut above
Gallen vs Huni, Round 10
The final round. What has Gallen got?
He comes forward and tries the right.
Huni is so in control, every time Gallen comes forward, Huni skips away.
BANG! GALLEN IS ROCKED BADLY!
He stays up on his feet though, and both go down, Gallen resorting to rugby tactics!
GALLEN IS DOWN! 
IT'S OVER! THE REFEREE STOPS IT!
Gallen was smashed by Huni, and was out on his feet. The referee had to stop it.
Gallen would have wanted so badly to last out the round, but he was goneski.
Sounds tense. Plenty of heart out there from both camps. Sounds like no one's taking a backward step. Should be a great last two rounds.
Who's got the points at present Simon ??

-Peter
I have Huni winning every round.
Audience comment by Peter
Gallen's heart will show even more as the fight goes on, needs to land a few more punches and close out the rounds better
Gallen vs Huni, Round 9
Gallen is being told that Huni is tiring – I'm not sure he's diminishing as much as Gallen himself is…
Gallen wears a body shot, again.
Huni advances behind a left hook, then brings the right, Gallen tries to punch out of trouble but Huni skips away and then lands another!
Huni lands two jabs to Gallen's face, lands a right, then a left hook, Gallen tries to tie him up, but Huni escapes, then lands another couple of shots to Gallen.
Gallen burrows in but Huni still lands shots!
A big right, then a body shot! Gallen hurt! He backs away, he doesn't want to engage!
Upper cut form Huni! Huni is going in for the kill with 10 seconds left!
How is Gallen still standing!?
Audience comment by Aiden Burgess
Gallen proving to be a legit boxer just not in Hunis class
Audience comment by Matt r
Gallen ribs are going to be so sore for weeks!
Gallen vs Huni, Round 8
Gallen comes forward, gets in tight, and starts throwing some.
What a combo from Huni to get out of that clinch! Right-left-right-left-right-left in rapid succession from Huni.
But Gallen comes back. Tremendous heart.
Another body shot from Gallen, who looks like he's trying to burrow through Huni's chest with his head at times.
Huni tries to make some space, Gallen just creeps forward like a tank.
Huni lands more shots to the body though.
Gallen stands tall now, at range from Huni. He's swaying tiredly, then gets caught, but comes back with a nice punch to close the space!
These body shots have to be taking their toll, but Gallen is standing up to them.
He's lost every round on my card, but this is impressive resilience from Gallen.