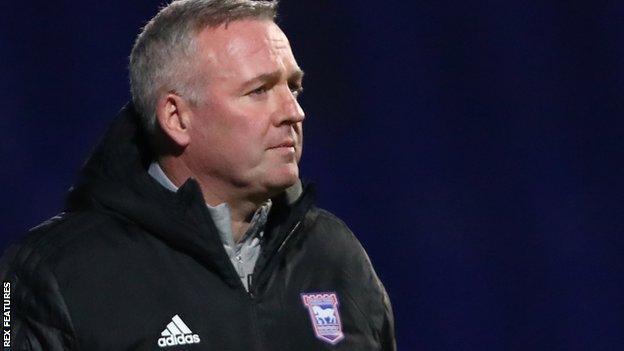 Ipswich boss Paul Lambert says the scarcity of Covid-19 testing in the EFL is "putting people's lives at risk" after he tested positive for the virus.
Lambert is one of eight people at the club to have had a positive Covid test.
The EFL has competition-wide testing at different times throughout the season with the next round scheduled for the week commencing 4 January.
"It's the protocols that have worried me more than anything else," Lambert told BBC Sport.
"I think you're putting people's lives at risk by not getting them tested regularly. It's been shocking.
"I know friends in Bundesliga 3, which is the equivalent of League One, and they've been tested over 50 times since they've been back in pre-season.
"Without our owner, who has paid for two out of his own pocket, we'd have been down to about six testings which is nowhere near enough."
Prior to Lambert's comments, the EFL said it would be "reviewing and strengthening" coronavirus protocols over the Christmas period "to help minimise transmission risk" and that players and staff showing symptoms would continue to be tested.
Revised protocols are likely to cover time spent in any indoor environment being kept to an absolute minimum, the use of gyms, changing and catering facilities and multiple coaches or individual car use being recommended for travel to matches.
Guidance will also stress the need to limit social contact with anyone outside of a household bubble over Christmas.
Along with Lambert, six players at the League One club and head of football operations Lee O'Neill have tested positive for coronavirus and Town's next two games have been postponed.
The EFL declined to comment further in response to Lambert.
'Liverpool or Ipswich, we're all fighting the same virus'
Premier League players in tier four areas will be tested twice a week as soon as it is possible to do so.
Players in the top flight have been tested on a weekly basis since the start of the 2020-21 season and increased testing will be expanded to clubs in lower-tier areas from January.
"We've been left out there to fend for ourselves," Lambert added.
"I think if you have a protocol with the Premier League and the Championship, everyone else should follow suit.
"It's one governing body. Regardless of whether you're Liverpool or Ipswich Town, it's the same virus everybody is having to fight here."
'Circuit breaker would take pressure off'
Earlier on Tuesday, Ipswich physio Matt Byard suggested a "circuit breaker" to allow English football to combat the new strain of coronavirus.
As well as the postponement of Town's next two matches, Byard thinks longer-term action may need to be taken and fears more positive results when players are retested on Wednesday.
Lambert agrees a break would "take the pressure off" but says he would only do it "if everybody else was doing the same".
"The Premier League is the main league," he said. "Whatever that does, everybody follows suit. But for some reason the EFL are not corresponding at all.
"We're one governing body, we play the same game, we deserve to be treated the same with testing.
"If you don't, things like this are going to happen more and more."
Championship side Millwall and League One rivals Peterborough and Sunderland have also already postponed parts of their Christmas fixture programmes because of coronavirus cases.
Portsmouth have reported positive results and are retesting their squad, while League Two side Exeter City said on Tuesday that although one player and one member of staff had tested positive, the club were "preparing for the upcoming festive fixtures as normal".