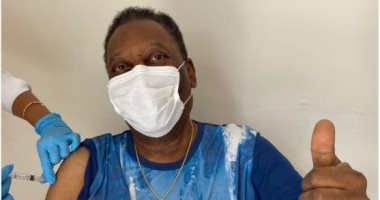 Brazilian footballer Pele, the best footballer for many, is continuing his recovery after having a colon polyp surgery and has begun "actively speaking", the hospital where Pele was taken said Friday.
And Albert Einstein Hospital, which hosts Pele in one of its intensive care units, stated that the 80-year-old former player "is recovering well, is aware of his surroundings, speaks actively and maintains vital signs normally."
Pele was taken to hospital last week and on Saturday underwent surgery to remove a colon polyp.
Doctors discovered a tumor in the colon during routine examinations that Pele underwent last week, after it had been postponed due to the Corona virus pandemic, according to what the former player confirmed.
Pele reassured his fans this week of his health from inside the hospital and sent a message of encouragement through social networks to the Brazilian singer Roberto Carlos, who lost one of his sons last Wednesday due to cancer.
In his message, Pele said: "I am recovering well, but I want to send all my affection, love and prayers to my close friend Roberto Carlos. I hope that God will comfort his heart and surround him with love and light."