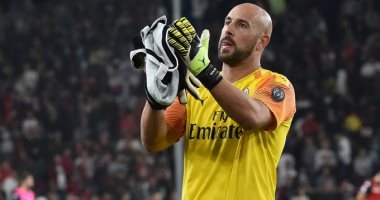 The Spanish goalkeeper, Pepe Reina, was chosen today, Monday, as the best goalkeeper in the last season (2020-21) in the Italian first division football "Serie A" by the Italian Olympic Committee.
And the Al-Asimi Club revealed, in a statement, that the 39-year-old received the award from the hand of former international goalkeeper Dino Zoff inside the Olympic Committee's Hall of Fame.
Rina participated mainly in protecting the "Eagles" den last season at the expense of the Albanian Thomas Strakosha, and he also continued as a basic in the current season.
The Spanish goalkeeper has played 4 matches with Lazio this season, with two wins, a draw and a loss.
The Liverpool goalkeeper, Bayern Munich, and Milan, in addition to many other clubs, won the World Cup in 2010 and the European Championship twice (2008 and 2012) with the Spanish national team, and in the German Bundesliga, the Italian Cup, the League Cup, the England Cup, and the Community Shield Cup Once.
The Italian club, Lazio, had officially contracted the veteran Spanish goalkeeper, Pepe Reina, on a permanent contract during the last summer transfers, coming from Milan, without revealing the details of the deal.
For its part, AC Milan issued a statement at the end of last August on its official website, stating: "AC Milan announced that goalkeeper Pepe Reina has joined Lazio in a permanent transfer deal. The club wishes the player all the best in the upcoming sporting seasons."