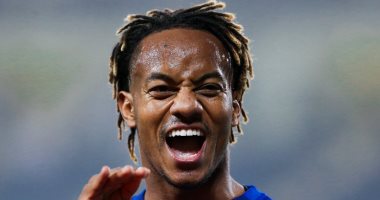 Peru announced the absence of right winger Andre Carrillo from the national team during the three matches of his country in the South American qualifiers for the 2022 World Cup against Chile, Bolivia and Argentina, due to an injury.
Al Hilal Saudi Club, in whose ranks Carrillo is professional, confirmed that he suffered a lower back injury, which will prevent him from returning to the stadiums for four weeks.
In this way, Carrillo, the former Benfica player, will be excluded from the next three rounds of the World Cup qualifiers, which Argentine coach Ricardo Gareca will announce the list of players who will compete next Friday.
Those pains prevented the Peruvian striker from participating in the last two matches with Al Hilal, who has been playing in his ranks since 2019, against the Iranian Esteghlal Club in the AFC Champions League and the Ettifaq Club in the Saudi League, and the blue team succeeded in winning both matches.
Carrillo, 30, was a key player in Peru's last four matches, including the last international break in which his country played three qualifying rounds, in which it beat Venezuela 1-0, drew against Uruguay 1-1 and lost to Brazil 2-0.
Peru will host Chile on October 7, and will play two consecutive away matches against Bolivia in La Paz on October 10 and Argentina in Buenos Aires on October 14.
Peru is in seventh place in the qualifiers with 8 points, five points behind Colombia, which is in fifth place, which qualifies for the FIFA supplement.