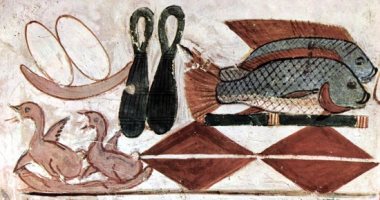 The ancient Egyptians knew many diverse diets that contain all the important nutrients from vitamins and minerals, which they were keen to cultivate throughout the year, and despite the development of times and technology, but there are still various foods that are said to be Pharaonic foods that the ancient Egyptian was eating and inherited His grandchildren, which we review in this report, on the occasion of the opening event of the Great Rams Road in Luxor Governorate, such as Al-Basara, Al-Lentil, and others.
Foods that were famous in the era of the pharaohs and are still present in our time
Fesikh in Sham El-Neseem
Among the ancient Egyptian dishes that still exist today, is pickled mullet fish, which the Egyptian still eats when celebrating Sham El-Nessim.
Insight
The ancient Egyptian excelled in preparing the Al-Basara dish, which consists of legumes, and it is considered one of the well-known meals until our time, and many still eat it.
live the sun
The ancient Egyptian knew the method of converting wheat into bread by obtaining grains and turning them into flour, and dough with water and yeast inside the oven, which he used to eat with various foods. Such as living the sun, which is still prevalent until now in the governorates of Upper Egypt.
lentils in winter
Lentils are considered one of the well-known Pharaonic meals until our time, and they are keen to eat it on winter days to feel warm and full.
fruit dishes
It is said that the ancient Egyptian knew different types of fruits such as figs, sycamores and grapes, as well as pomegranate, watermelon, and plum. He also knew cucumbers, broccoli and dom, and they extracted oil from sesame, radish, as well as castor. Of milk, cheese, butter and yoghurt.
okra
The okra meal is one of the famous meals of the Pharaohs, which the Egyptians still eat until our time with a plate of rice or bread, and it is also said that the Egyptian knew molokhia, turnips, cabbage and onions, as well as garlic, lettuce and radish as well, as well as watercress and balls .
The Egyptian knew legumes such as beans, wheat, barley, lentils, as well as sesame.
Fish and meat dishes
It is said that the ancient Egyptian was eating meat, fish and poultry, whether roasted or boiled, adding salt, cumin or pepper, coriander, sesame, fennel and dill, to give it a distinctive flavour. Among the meats that the ancient Egyptian ate were beef, goats, ducks, geese and fish.