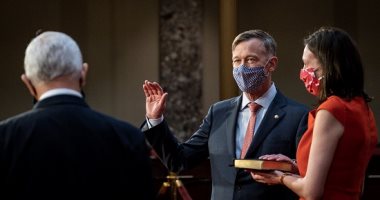 The new members of the US Congress, both parts of the House of Representatives and the Senate, took the constitutional oath, in a tense atmosphere between Democrats and Republicans.
The new US Congress assumed its duties in Washington, amid anticipation for the identity of the majority in the Senate to be resolved, and a session expected to be busy Wednesday, whose agenda is to confirm the victory of the President-elect, Joe Biden, in the presidential elections.
Members of the Democratic-majority parliament, which this time is characterized by being more numerous than ever and having the largest number of women, met again to take the oath amidst a strict health protocol.
In the Senate, which has also begun its new session, the majority is still pending pending the end of the elections scheduled for Tuesday in the state of Georgia. In order for this House to return to Democratic control, their candidates must win two state seats, a bet that seems difficult.