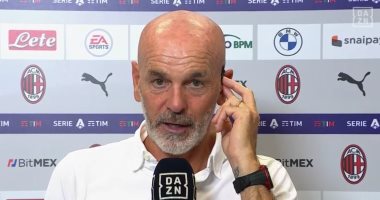 Milan coach Stefano Pioli expressed his happiness at the top of the Italian league standings, after his exciting victory over Lazio 2-0 in the match that took place between them this evening, Sunday, at the "San Siro" stadium, the stronghold of the Rossoneri, in the third round of Omar. Italian League competition for the current season 2021-2022.
Pioli said, in statements to the "dazan" network: "Leao is a strength for Milan for what he is doing. He is a young man who plays for his third season in Italy, and the beautiful thing is that he has different characteristics than Rebic."
"Hiring Florenzi gave us many advantages and let us try again," he added.
He continued, "We were good today in finding an offensive balance, and we have to be good in the upcoming matches."
And he continued: "Ibrahimovic never grows old and has great passion, it is the fire inside him and from which he always competes to win, when he trains, he gives the maximum, and the beauty is that he does it happily, when you are like him, you will definitely not feel progress and the passage of years."
And he added, "Diaz and Rebic were good in defense and this helped us a lot. Now the boys have to recover because we have a great confrontation and a challenge on Wednesday."
He concluded: "Our dreams? They are huge, but we have to dream at night, and do during the day in order to achieve them."
Rafael Liao scored the goal for Milan against Lazio in the 45th minute of the match.
Milan player Frank Kessie missed a penalty kick awarded by the referee in the last minute of added time in the first half, hitting the ball across the crossbar.
Swedish star Zlatan Ibrahimovic scored the second goal for Milan in the 66th minute of the match, and participated as a substitute in the 60th minute of the match instead of Rafael Liao, where Zlatan scored his appearance again with the Rossoneri after an absence of more than 4 months due to injury.