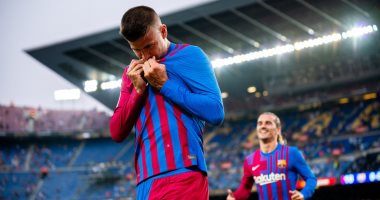 Barcelona defender Gerard Pique confirmed that Barcelona president Josep Maria Bartomeu is one of the worst presidents of the Catalan club in its history, indicating that the club is currently on the right path.
Pique was asked during an interview published by the website:elespanolThe Spaniard about the worst president of Barcelona and whether it is Bartomeu or someone else: "I do not know if it was the worst, but who I lived with is on the list for sure, we all have mistakes, but in his period Barca was not where it should be or as the Catalans wished, generally now during the 5 to 10 In the coming years, we want to get back on the right track."
He added: "Now I am optimistic and excited. The next 5/10 years will be very good for Barcelona. We have reached a stage of control and the beautiful ball is very high. No team has managed to maintain its level for many years. Before Pep we were playing in the Europa League, but now we see that Koeman The perfect coach for us.
And about Pep Guardiola, Manchester City coach, he commented: "We have reached a point where there is great tension in the dressing room with Pep, almost in the period of competition with Mourinho. Pep wants to control everything and this is his right as a coach. I started dating Shakira and my relationship with him changed, but now everything is excellent, If there was a moment I thought of leaving 2011."
On the reduction of his salary: "I was already given a part of my salary. My contract would have expired and there was a contract that if I played a number of matches, it would be renewed for me with the same salary, but they removed that now. Laporta called us to tell us .. Although we reduced our salaries, the captains arrived on time for the reduction and registration. New signings… The club was waiting for what would happen with Leo before announcing their agreement with us."
On the possibility of retiring, he commented: "If in my first seasons as a professional player, they told me that you will play at the age of 34 for Barca, I will not bet on that.