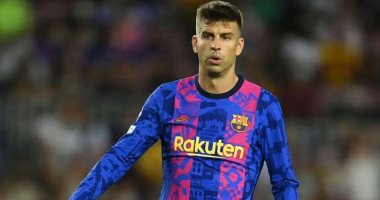 Barcelona captain and defender Gerard Pique said after the 3-0 loss at the hands of Bayern Munich that he is "convinced" that his team is "capable of competing" despite this great result at the start of the team's campaign in the Champions League group stage.
Pique said in televised statements after the match hosted by the Camp Nou stadium in Group E, "It is a bad result, we will not deceive ourselves. It was an even match between the two teams until the first goal, while the second goal caused us great damage."
He continued, "We will see what happens at the end of the season. The situation is different now, but with Ousmane (Dembele) and Ansu Fati, things will be better."
The Barca captain admitted, "I must be frank: We are not among the candidates to win the title. But there is no problem with this. We were not candidates on many occasions, and in the end we won the title. Things may change a lot. I do not talk about excuses. We are Barca."
Barcelona vs Bayern

Thomas Muller scored the goal for Bayern Munich in the 34th minute of the match, and the Polish star Robert Lewandowski added the second goal of the Bavarian giants in the 56th minute of the match, then the Bayern striker concluded the Bayern Munich hat-trick in the 85th minute of the match.
With this result, Bayern Munich leads the standings of Group E, after winning the first 3 points in its new season of the Champions League, while Barcelona is at the bottom of the standings without any points.
This is the first match for the Catalan team in the Champions League without Argentine star Lionel Messi, who left during the last summer transfers to Paris Saint-Germain..
The two teams had faced each other in the Champions League 11 times before Tuesday's clash. Barcelona won only two matches, while Bayern Munich won 7 matches, and two matches between them ended in a draw.
Barcelona continued its disappointing results against Bayern Munich, where the Catalan team fell in the last confrontation between them with eight goals to two goals in favor of the Bavarian in the same competition.