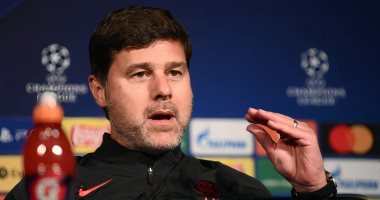 Mauricio Pochettino, coach of the French team Paris Saint-Germain, confirmed the readiness of Argentine star Lionel Messi to return to participate with PSG against his English counterpart, Manchester City, in the fiery confrontation scheduled for nine in the evening, tomorrow, Tuesday, at the "Princes Park" stadium, in the top of the competitions. The second round of the group stage of the Champions League for the current season 2021-2022.
Pochettino said in the match press conference, "Messi and Verratti will be in the group tomorrow. Leo has recovered well and will be in the list. Verratti can be present in the group. He has trained well in recent days."
And about the possibility of Messi participating in the starting lineup of the PSG against Man City, Pochettino explained, "We will wait until tomorrow to confirm who will participate."
Pochettino added, "It's a football match, anything can happen, we will have to implement our ideas while limiting their strengths!", explaining, "Winning champions is a dream for us."
"We have great goalkeepers who adapt to the requirements of the technical staff. All goalkeepers want to play," Pochettino added.
"We will face a team led by the best coach in the world, in my opinion," the Paris Saint-Germain coach continued, adding, "We will face a team that dreams of dominating the match like us."
Pochettino added, "As soon as you take a look at these two teams, we are a team under construction.
Man City leads the first group with 3 points, after its broad victory in the first round over German Leipzig 6-3, while the Paris team fell into the trap of a positive tie against its Belgian host Club Brugge, 1-1, and in the same group, Leipzig faces its counterpart Club Brugge..