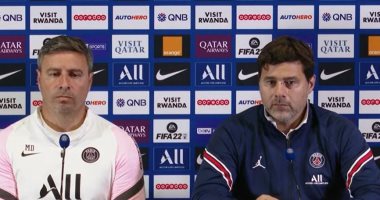 Argentinian coach Mauricio Pochettino has settled the controversy surrounding the first appearance of Sergio Ramos with the French capital club, after injury prevented him from participating with the team this season since he came from Real Madrid in a free deal last summer.
"As for Sergio Ramos, we do not have a specific date for his return, but we are optimistic," the Paris Saint-Germain coach said, in a press conference before the match against Lyon, Sunday.
Regarding Messi's appearance with Paris Saint-Germain for the first time at the "Bac des Princes" stadium tomorrow, Pochettino said, "Messi is calm regarding his first participation tomorrow at the Park, and he will have beautiful times with the public."
On Paris Saint-Germain's motives towards all competitions, Pochettino said, "The motivation is still there, whether in the French League, the Cup or the Champions League. We know that tomorrow's match will be difficult against a difficult opponent. There are some great teams in France who will play very good matches in the future." This shows the richness of this tournament."
On the lack of players in the middle of the season, the Paris Saint-Germain coach replied, "Nothing, the clubs are helpless in some way, we can't do anything from our side, there are definitely things that must be reviewed to find a balance, this is something that needs to be reconsidered in the future."
Pochettino spoke about the possibility of making changes in the formation of Paris Saint-Germain, saying, "Yes, we will try to use the team well while maintaining a balance, there is another international break coming in a few weeks, our players from South America will play on the same day that our team plays a match against Angers, It's a crazy situation."
In response to a question about the 1-1 failure against Club Brugge in the opening Champions League campaign, the Argentine coach said, "We lacked solidity against Brugge, we know that there is the possibility to try different systems in the future, we need time to work, new players need Time to fit into the group.
Pochettino ended his speech on Mbappe's position on the Lyon match, saying, "Kilian trained with us this morning, we will see how things go tomorrow morning."