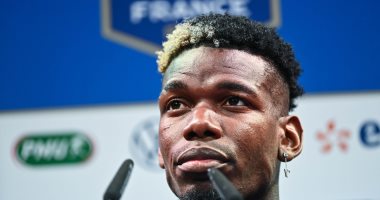 Paul Pogba, the star of Manchester United and the France national team, expressed his disappointment after Wednesday's 1-1 draw against Bosnia and Herzegovina, in the confrontation that took place at El Mino stadium in Strasbourg, as part of the fourth round of European qualifiers for the 2022 World Cup. in Qatar.
Pogba said in comments after the match: "We knew they were tired when we were full, but when we became incomplete after Conde was sent off we got in trouble, we had to do the right thing, especially not conceding a goal, it was not easy to make a difference on an individual level. It would have been a good match for us if we had 11 players on the field."
He added: "In the first half we really controlled them, with passes that were missing a few, but the red card caused complicated things, that's how it was, we have to do much better next Saturday against Ukraine."
France vs Bosnia
Edin Dzeko scored the first goal for Bosnia after 36 minutes, and Antoine Griezmann equalized 3 minutes later for France before the end of the first half.
The formation of the France team was as follows: Goalkeepers: Lloris / Defense: Conde, Varane, Kimpembe, Lucas Dean / Midfield: Vertoot, Pogba, Lemar / Attack: Griezmann, Mbappe, Benzema.
With this result, the French team maintains the top spot in the group with 8 points, 4 points ahead of the Ukrainian team, the runner-up, while Al-Basuna occupied the fourth place with only two points.
The French team leads the standings by 4 points from the runner-up Ukraine, while the Finland team comes in third with two points, while Kazakhstan is at the bottom of the standings with two points.
The roosters collected 8 points in their journey towards the 2022 World Cup, where they achieved two victories against Kazakhstan and Bosnia and Herzegovina, in addition to two draws at the beginning of their campaign against Ukraine and today against Bosnia again, and their players scored 5 goals and conceded two goals.
On the other hand, Bosnia and Herzegovina scored two points from a draw with Finland in the first round with two goals each, while it fell to France and tied today.
The French national team won the last round at the expense of its host Bosnia and Herzegovina, with a clean goal, at the "Grbavika Stadion", in the third round of competitions.