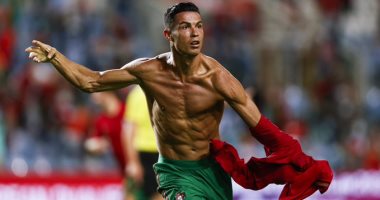 Qatar national team will host in its preparatory camp in Hungary its counterpart Portugal at 7:15 pm today, Saturday, Cairo time, as part of the fifth round of the European qualifiers for the 2022 World Cup.
The Qatari team will participate in the European qualifiers for the 2022 World Cup, specifically with the first group teams qualified for the World Cup for the old continent, but without calculating the points or affecting the group, in order to prepare for the expected global battlefield next year.
Qatar's first matches in the European qualifiers for the World Cup were against Luxembourg and won with a clean goal, then faced the Azerbaijan national team and beat it with two goals to one, then lost to Serbia 4-0.
Portugal enters the meeting with high spirits and high confidence, after he managed to overturn a goal with a valuable victory with two goals scored by captain Cristiano Ronaldo, to put his country at the top of the first group table with 10 points.
The Portuguese national team will miss its first star, legend Cristiano Ronaldo, in today's match, as the Portuguese Football Association announced that its historical scorer has left the national team's camp, in preparation for his return to the Manchester United team.
The star Ronaldo led his country to achieve a dramatic victory at the expense of its Irish guest (2-1), in the match that took place between them last Wednesday, in the fourth round of the European qualifiers for the 2022 World Cup in Qatar.
The Portuguese star scored two goals for his country in the deadly time, the first in the last minute of the original time of the meeting, and the second in the sixth minute, calculated instead of lost, but he received a yellow card for taking off his shirt to celebrate the winning goal he scored in the killer time, so he will be absent due to the accumulation of cards.
Ronaldo, 36, raised his score to 111 goals in 180 matches for Portugal, to become the best scorer in the world at the level of teams through the ages, breaking the record of retired Iranian striker Ali Daei (109 goals).