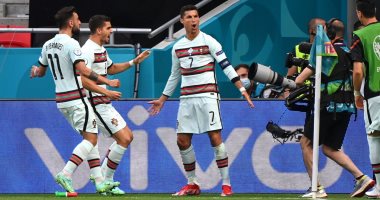 Portugal will face Ireland at 9:15 pm today, Wednesday, in the fourth round of Group A of the European qualifiers for the 2022 World Cup in Qatar, at the Algarve stadium in Faro.
Portugal, led by Cristiano Ronaldo, is looking forward to continuing the victories against Ireland, in order to continue at the top of Group A and grab the qualification for the 2022 World Cup.
Brazil started the European World Cup qualifiers, by defeating Azerbaijan with a clean goal, then drawing with Serbia 2-2, and then beating Luxembourg 3-1, to collect 7 points and lead the first group standings, while the Serbian team is runners-up with a goal difference.
Portugal is scheduled to face Ireland this evening, Wednesday, then play against Qatar (the guest) on September 4, and visit Azerbaijan on September 7.
Portugal is led by a group of prominent stars, led by Manchester United duo Cristiano Ronaldo Bruno Fernandes, Manchester City defender Ruben Diaz and his colleague Bernardo Silva, and finally Liverpool striker Diego Jota.
Portugal coach Fernando Santos has called up 25 players to compete in the European qualifiers for the World Cup.
Goalkeepers: Anthony Lopez, Diego Coast, Rui Patricio.
Defenders: Joao Cancelo, Ricardo Pereira, Domingos Durate, Gonzalo Incao, Pepe, Ruben Diaz, Nuno Mendes, Rafael Guerrero.
Midfield: Anilo Pereira, Joao Palolino, Ruben Neves, Ruben Fernandez, Joao Mario, Joao Moutinho, Otiavo Montero, Bernardo Silva.
Forwards: Andre Silva, Cristiano Ronaldo, Diogo Jota, Gonzalo Judic, Pedro Gonzalves, Rafa Silva.