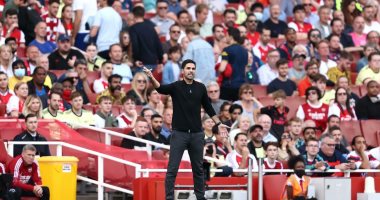 Arsenal coach Mikel Arteta confirmed that the Gunners had to beat Norwich City, 1-0, in the match that brought the two teams together, Saturday evening, at the Emirates Stadium in the fourth round of the English Premier League for the current season 2021. -2022.
And Arteta said, in statements after the end of the match: "Emotionally it was a very difficult match, after the three defeats, playing here in front of your fans. .
"We had a period after 20 or 25 minutes where we started to look a little bit, trying to attack very quickly and give the ball away, it was an open game, in the second half we controlled the game again and we should have scored more."
He continued: "You learn from the people around you in difficult times, we live that, if you look at the fans today you can see that they are willing to suffer, we are working hard to fix this and we are working to improve."
Arsenal
"We are really happy, we knew it was going to be a tough game and we finally got what we wanted on the pitch, after three defeats, things got complicated and I must say it was the best days of my difficult career and it was painful but good."
"And I have to say, it was probably the best 10 to 15 days I've had since I was in football, I'm not saying they were the easiest, but maybe they were the best."
With this result, Arsenal achieves its first 3 points in the English Premier League, to occupy the sixteenth place in the table, while Norwich City is in the twentieth and last place without a balance of points.