Patrice Motsepe, President of the Confederation of African Football (CAF), confirmed that Africa will amaze the world next January, the beginning of the new year, during his visit to the Paul Biya stadium in the Cameroonian capital, Yaounde, which will host the opening and closing of the 2022 African Nations Cup Cameroon.
The CAF President visited the stadium, accompanied by the Secretary-General of the Federation, Veron Mosengo-Omba, the Cameroonian Minister of Rabat, Nares Kombe, and the President of the Cameroon Federation, Seydou Mbombo Ngoya..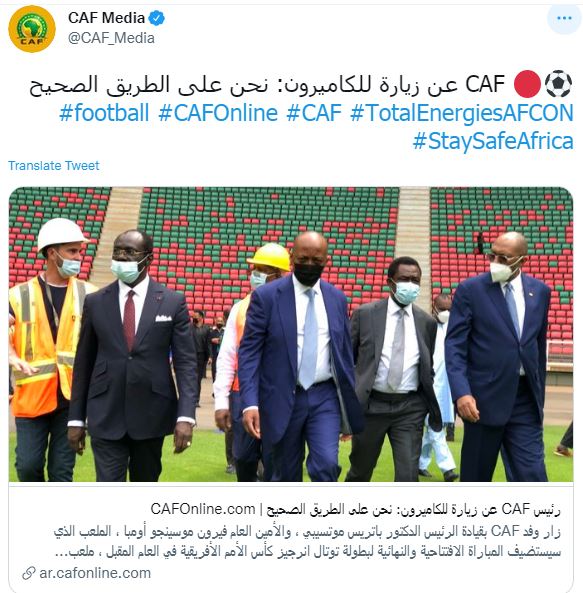 According to CAF's official website, Motsebe said, "I am very satisfied with the briefing I received and what I saw, I saw the Olympic stadium and it is world-class. We should all be proud of the people of Cameroon, and as Africans, we should commend Cameroon for developing such infrastructure, in partnership with the government, The Minister of Sports, the Local Organizing Committee, the President of the Cameroon Football Federation and the CAF administration under the leadership of Veron Mosingu Omba.
Motsebe stressed, "I am sure that in January next year we will dazzle the rest of the world. I am very satisfied with what I saw, and we are on the right track."."
Patrice continued, "The quality of football that will be played here will once again show the world that Africa has the potential to win the World Cup one day – that is the biggest goal. The Africa Cup of Nations is a very special occasion, and I think it is important for us to put things in order in Cameroon.".
Egypt plays the tournament in Group D, along with Nigeria, Sudan and Guinea Bissau.
The matches of this group will be held in the city of Garoua, specifically in the Rumde Adega stadium, between January 9 and February 10 in Cameroon..