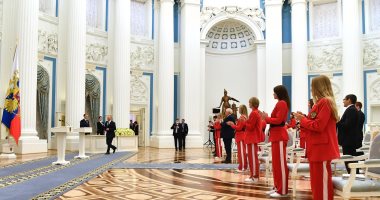 Russian President Vladimir Putin on Saturday honored the Russian athletes who won gold medals at the last Olympic Games in Tokyo 2020, in which Russian athletes participated under the flag of the Russian Olympic Committee in view of the sanctions imposed on Russian sports in the case of doping.
During the ceremony, Putin stressed that "Russian athletes presented themselves with dignity at the Tokyo Olympics," noting the difficulties they had to face to participate in this sporting event, in reference to the severe physical effort and restrictions imposed as a result of the outbreak of the new Corona virus.
The president referred to the logical difficulties of any tournament as a result of "political decisions against our country and our team," referring to the World Anti-Doping Agency's decision to suspend Russia's international activities for two years, under which Russia participated in the Tokyo Olympics without knowledge or anthem.
However, Putin made it clear that Russian athletes defended Russia's sporting pride with dignity and gave their fans sporting victories and "a unified sense of pride."
He stressed that the successes of the Russian team in the last session are an example for young generations, highlighting the importance of these victories for the development of sports in the country.
He expressed his confidence that the difficult times for Russian sport will end soon, which will allow the athletes to regain leadership at the world level