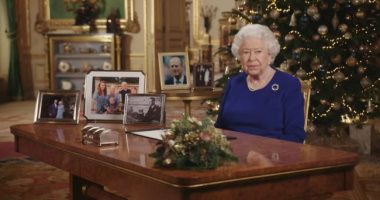 In her annual Christmas message, Queen Elizabeth of Britain said that what many want as a gift this year is just a hug.
She added that the celebrations will be a difficult time for those who have lost their loved ones due to the Corona pandemic and those who are unable to meet their families due to the restrictions imposed to combat it.
In her usual recorded speech to her country on Christmas Day, the 94-year-old Queen repeatedly mentioned hope for the future while admitting that millions of Britons will not be able to enjoy their usual celebrations this year.
"Of course, for many, this time of year will be marred by grief and mourning over the loss of loved ones. Others will miss their friends and family because of the distances that separate them as safety measures, while all they really want is just a hug or a warm handshake," she said.
She continued, "If you are one of them, you are not alone. Let me assure you that you are in my heart and prayers."
Even the Queen has not performed her usual Christmas celebrations and will spend the holiday quietly at Windsor Castle with her husband, Prince Philip (99 years).
"Wonderfully, the year in which people were forced to stay away from each other brought us together in various ways," she said, noting that the royals were inspired by the stories of those who volunteered to help the needy.