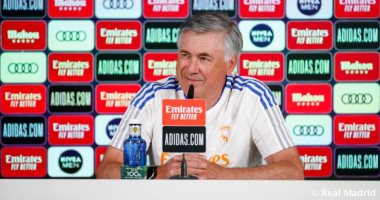 Real Madrid coach Carlo Ancelotti confirmed that tomorrow will be special for us with our return to play at the "Santiago Bernabeu", but the most important thing is to win and collect the three points against Celta Vigo.
Ancelotti spoke in the press conference for tomorrow's match, saying: "The Bernabéu is a stadium that has always helped the team. It is a very special day and we have to close it with a good match and get the three points. We have to play well and put in a good show."
Regarding the club's failure to include Mbappe during the summer Mercato, the Italian coach said: "Mbappe is a wonderful player and we wish him success with Paris Saint-Germain, and we have a strong team."
And he talked about the newcomer, Camavinga, saying: "He played with his country's under-21 team, he is very excited, he has great quality and he is available for tomorrow's match."
On the participation of the South American players in tomorrow's match, Ancelotti said: "They came back yesterday and trained a little, they have no problem playing, I will talk to them and if there is a tired player, he will not play."
Ancelotti praised his team's midfielders, saying: "I have midfielders who are the best in the world, I have no problem saying that, Casemiro, Kroos, Modric, Camavinga, Valverde, Isco and Ceballos who is recovering well, they must be patient, I cannot put everyone in The main thing is for them to accept the situation."
Real Madrid had won in its last La Liga match before the international break at the expense of its host Real Betis, with a clean goal scored by right-back Dani Carvajal, to lead the competition with 7 points and a goal difference from Barcelona, ​​Valencia, Seville and Real Mallorca.