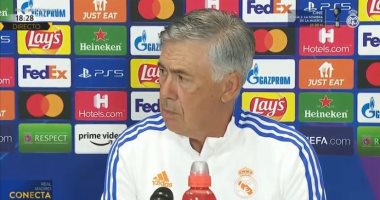 Real Madrid coach Carlo Ancelotti confirmed that the Villarreal team offers excellent levels and has great news, before the confrontation scheduled for tomorrow, Saturday, at the Santiago Bernabeu, in the seventh round of the Spanish League competition "La Liga" for the current season 2021-2022.
"We will face a team of high quality, with great experience and organization, they are playing at an excellent level, and in order to beat them we must play a perfect match," Ancelotti said in the match's press conference.
Ancelotti added "The players are in good shape, lately we focused on the attack because it was the most thing that needed to be improved, and that depends a lot on the creativity and quality of the attackers," explaining, "We have to improve the defensive side, we focused more on attacking but everything we can improve, against Mallorca has improved in aggression, and that's what we want to continue."
The Real Madrid coach praised Karim Benzema's level with the team, saying, "Benzema should be on the list of candidates for the Ballon d'Or because of what he is doing, he has time to win it, Benzema increases in his age and develops his level."
Ancelotti talked about Hazard and Asensio, "Hazard is doing well, he has no problems, I can't promise you that he will play in all matches, but he is a great player." For us".
And about watching the matches of the traditional rivals Barcelona, ​​​​Ancelotti explained, "I watch the matches because I love football. I am not happy when a team faces a difficult time, whether it is Barcelona or another team."
Real Madrid topped the Spanish league standings for the current season 2021-2022, after the end of the sixth round matches, with 16 points, two points ahead of its neighbor, Atletico Madrid, the 14-point runner-up.
Real Madrid defeated Mallorca 6-1 in the match that brought the two teams together on Wednesday evening at the "Santiago Bernabeu", to reach the 16th point at the top of La Liga.