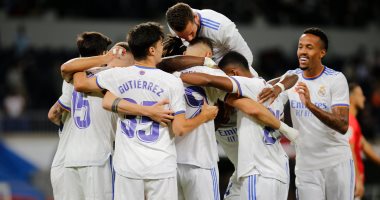 Real Madrid, led by its Italian coach Carlo Ancelotti, achieved the best scoring start during the first 6 rounds of the Spanish League during the current century, with 21 goals, after swept its guest Real Mallorca 6-1, in the match that brought the two teams together on Wednesday evening at the stadium. Santiago Bernabeu, as part of the sixth round of La Liga competitions for the current season 2021/2022.
And the "Opta" network, which specializes in monitoring statistics, stated that Real Madrid achieved the best goal scorer after 6 rounds of La Liga during the current century, with 21 goals, since the 1987-1988 season, when he scored 26 goals after the same number of rounds.
The royal team won 5 matches and drew in one match, during 6 rounds of the current La Liga season, after beating Alaves 4-1, Real Betis 1-0, Celta Vigo 5-2, Valencia 2-1, Real Mallorca 6-1 and a draw With Levante 3 – 3.
Real Madrid vs Real Mallorca
Karim Benzema opened the match goals early after only 3 minutes, and Marco Asensio scored the other two goals for Real Madrid in the 24th and 29th minutes, while the only goal of the guests came in the 25th minute through player Lee Kang.
In the second half, Asensio scored a fourth goal for his team (hat-trick) in the 55th minute, and Benzema added the second for him and the fifth for the Royal in the 78th minute, before Isco concluded the match goals in the 84th minute.
With this result, Real Madrid is at the top of the Spanish league standings with 16 points, two points behind runner-up Atletico Madrid, who has 14 points, while Real Mallorca is in the tenth place on the table with 8 points.