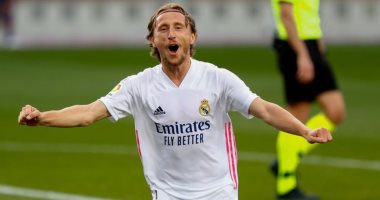 Today, Thursday, Croatian international Luka Modric, star of the Spanish club Real Madrid, celebrates his 36th birthday.
Today, Thursday, Croatian Luka Modric completed his 36th year, and is within the walls of his beloved club, Real Madrid.
And the official account of the Real Madrid team on the social networking site "Twitter", published a picture of Croatian Luka Modric, and commented, "Happy birthday Luka Modric, who is 36 years old."
Croatian Luka Modric moved from Tottenham Hotspur to Real Madrid in 2012, and was crowned with the Royal with 16 titles, most notably 3 European Champions Leagues, 2 Spanish Leagues.
Croatia's Luka Modric won the 2018 Ballon d'Or award from the French newspaper "France Football".
For his part, Frenchman Eduardo Camavinga expressed his great happiness at joining Real Madrid, in statements on the sidelines of his presentation to the media.
"I am very happy and proud to be here," Camavinga said, in a press statement. "I thank the president of the club and my family, because they made it possible for me to be here, as they told me a few years ago, Hala Madrid."
The French star continued: "The moment I learned that I would become a Real Madrid player, I was very happy, I thought about the difficult times I spent with my family and I am happy for them."
And the new Real Madrid player continued: "I will work hard and give everything I have in training to be ready whenever the coach needs me, and my move to Real Madrid was not because of money, but to achieve my dream that I have always dreamed of since I was young, and I did not hesitate for a second to accept the offer and I knew how far Royal interest in contracting with me two years ago.
He added about his preferred position, "I like to play in front of the defensive midfield, but I can also advance and participate in the attacking aspects and I have the ability to adapt to any position and certainly I need some time, but I feel ready for Sunday's match against Celtva Vigo, but the coach's final decision."
The Frenchman continued, "I have great memories with Real Madrid, especially in the Champions League, in addition to Ronaldo, Zidane and Figo as the best players. I look forward to participating in the largest number of minutes with the team this season, and I consider today the best for me in my life, in addition to representing the France national team."
He continued, "I want to be in the French national team, and that will only come by playing well with Real Madrid."
He concluded his statements: "I consider Benzema to be a role model for all the French, he deals with everyone very well and this is clear with Vinicius, and I want to learn from all the players at Real Madrid."