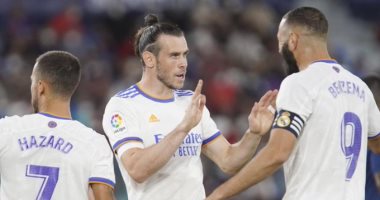 Press reports revealed that the Spanish Real Madrid administration has taken final decisions regarding some players whose contracts expire in the summer of 2022, especially the trio Gareth Bale, the Brazilian left-back Marcelo and Isco, the Isco player..
site said " ABC "The Spaniard that the Real Madrid administration does not think about renewing the contracts of the three players and prefers to leave them next summer for free, and the administration had hoped to sell them during the last summer transfer period, but their high salaries did not encourage clubs to make offers to contract with them..
According to the Defensa Central website, the desire of the Real Madrid administration is to clean the team of excess elements and vacate places on the list for new contracts..
And by getting rid of Gareth Bale, Isco and Marcelo, Real Madrid benefits from 3 vacant places, and gets rid of the amount of 60 million euros, the value of the salaries of the three players annually..
The Mernegie administration also plans to make a major change in the team's list during the summer of 2022 and make an important transformation by giving up players and ending the career of some of the team's stars, who were essential elements in the past, and reducing the list to 25 players to make room for new contracts..
With the end of the work at the Santiago Bernabeu stadium and its appearance in a new suit starting from next season, the Real Madrid administration plans to sign big stars, most notably the French Kylian Mbappe, the star of Paris Saint-Germain, and the Norwegian striker Erling Halland, and the list of players that the administration puts as the target of German defender Antonio Rodriguez, Chelsea player, and French Paul Pogba, Manchester United player.
Among the players whose contracts expire in the summer of 2022 and the team is still undecided on his future is Croatian star Luka Modric, who renewed his contract for one season and hopes to get a new opportunity at Real Madrid, despite being 36 years old and dreaming of retiring at the Santiago Bernabeu..
And press reports revealed that Bale will be absent for two months from the team due to injury, and Bale suffered a thigh muscle injury after his participation with Wales in the 2022 World Cup qualifiers at the beginning of this month..
The 32-year-old was out on loan to Tottenham last season due to his exit from the accounts of Zinedine Zidane, Real Madrid coach at that time..
Bale participated since the beginning of the season with Real Madrid in three matches, during which he scored one goal, which was against Levante.