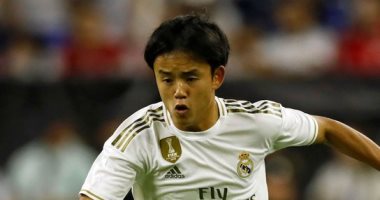 Real Madrid's management plans to renew the contract of the Japanese star, Takefusa Kubo, who is loaned to Real Mallorca until the end of the 2021-2022 season.
Kubo participated in Real Mallorca's 1-6 loss against Real Madrid, in the match that brought them together yesterday evening, Wednesday, in the sixth round of the Spanish League competition.
According to the Spanish radio station Cadena Ser, Real Madrid decided to renew the contract of the Japanese talent Kobo, for his distinguished performance with Mallorca, whether last season, or the current 2021-2022.
She added that Real Madrid will resolve the renewal of the Japanese Kobo, as part of the internal plan to preserve young talents within the stronghold of the "Santiago Bernabeu".
The Japanese, Takefusa Kubo, has a contract with Real Madrid that expires in June 2024, and he spends a season on loan with Mallorca.
And European Union rules prevented Kubo from playing for Real Madrid this season, due to the lack of an empty place in the list of foreigners, given the presence of Vinicius, Militao and Rodrygo.
And she concluded that Kubo will get a seat inside Real Madrid next season 2022-2023, as Vinicius Junior is close to obtaining the Spanish passport, and will leave his place vacant.