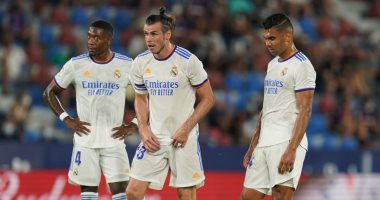 The Real Madrid team returns to play again at the "Santiago Bernabeu" stadium in the presence of its fans for the first time in a long time, after the completion of the development process inside the royal team's castle, where it will host its rival Celta Vigo, in the confrontation scheduled to take place at nine in the evening, Sunday, in the competitions The fourth round of the Spanish League "La Liga".
Real Madrid will play tonight's match under the leadership of Italian coach Carlo Ancelotti, and he is third in the Spanish league table with 7 points, while Celta Vigo is in the eighteenth place with one point.
Meringue collected 7 points in La Liga this season, as it swept Deportivo Alaves in the first round with a score of 4-1, then tied with Levante 3-3 in the second round, before snatching a difficult victory from its host Real Betis with a clean goal, at the "Pento Villamarin" stadium. In the third round competition.
real Madrid
Real Madrid has been with Celta Vigo in 127 years throughout history, as follows:
Number of matches: 127 matches.
Real Madrid wins: 72 games.
Celta Vigo wins: 34 games.
The number of matches that ended in a tie: 21 matches.
Real Madrid's goals: 292.
Celta Vigo goals: 162.
Real Madrid's biggest win against Celta Vigo: 7-1 in the 2015-2016 season.
– The most Real Madrid players participating against Celta Vigo: Manolo Sanchez (24 matches).
Real Madrid players who scored the most goals against Celta Vigo: Cristiano Ronaldo (20 goals).
Most hat-tricks scored against Celta Vigo: – Elfredo Di Stefano 3 times – Cristiano Ronaldo twice – Santillana twice.
– The last 5 matches between Real Madrid and Celta Vigo, Real Madrid won 4 of them and the two teams tied in one match.
– Real Madrid has scored at least two goals in the last 10 games it played against Celta Vigo in all competitions.
real Madrid
This is the first match hosted by the "Santiago Bernabeu" stadium, the stronghold of Real Madrid, after the end of the reform phase that it witnessed in the last period, since March 1, 2020, specifically after 560 days of not hosting matches.
The Spanish team, Real Madrid, under the leadership of coach Carlo Ancelotti, will face many strong confrontations in the month of September in many tournaments, after the end of the international break at the beginning of next month.
Real Madrid plays 6 consecutive matches in 17 days in the Spanish League and the European Champions League, where the royal team plays 4 La Liga matches and two matches at the start of its Champions League campaign in the new season 2021-2022.