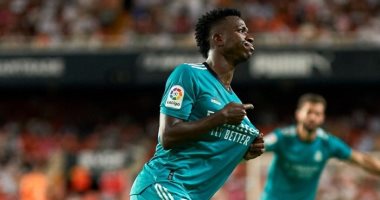 Spanish press reports revealed today, Monday, that Real Madrid is seeking to immunize its star Vinicius Junior with an attractive salary to renew his contract. Devinsa Central confirmed that the Real Madrid administration is seeking to immunize its young Brazilian star, Vinicius Junior, by renewing his contract and raising the penalty clause to one billion euros, to stop the temptations of European clubs, especially Paris Saint-Germain.
The Parisian team demanded to sign the young Brazilian star as part of the French star Kilian Mbappe deal, which Real Madrid sought to include in the last Mercato to no avail..
The newspaper added that despite the fact that the current penalty clause in Vinicius Junior's contract amounts to 700 million euros, and that his contract continues until the summer of 2025, his weak salary prompted the Real Madrid administration to think about rewarding his brilliance this season and emphasizing its bet on him in the future..
She explained that Real Madrid wants to increase the salary of Vinicius Junior to become closer to the big salaries in the team, which protects him from the ambitions of Paris Saint-Germain, and that raising the penalty clause to one billion euros places the young Brazilian star among the big Real Madrid stars who have a similar penalty clause..
The newspaper added that the Real Madrid administration believes that Paris Saint-Germain has become insane after Real Madrid approached the kidnapping of Mbappe and is thinking of a way to repay the debt to the Spanish team, targeting Vinicius Junior, especially to be a replacement for his French star in the event of failure to renew his contract and sign him for free to Real Madrid..
Real Madrid paid 45 million euros to Brazilian Flamengo to sign Vinicius Junior in the summer of 2017, surpassing Barcelona, ​​who tried to include the player, but suggested only 25 million euros..
Real Madrid waited a whole year until the summer of 2018 to benefit from the services of his star because he was not yet 18 years old and participated in previous seasons in 126 meetings, during which he scored 20 goals and awarded 6 assists.
Vinicius Junior participated with the Brazilian national team in 6 matches without scoring or assisting any goal.