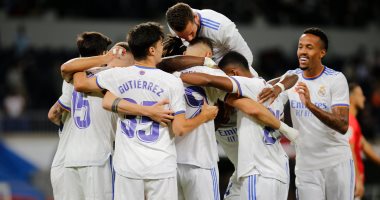 Real Madrid will host Sheriff Tiraspol at 9:00 pm today, Tuesday, at the "Santiago Bernabeu", in the second round of Group D of the Champions League.
Real Madrid started its Champions League campaign, defeating Inter Milan 1-0 in the first round that brought them together on September 15, at the "Giuseppe Meazza" stadium.
Sherif Tiraspol defeated Shakhtar Donetsk 2-0, in the match that was held on the same date in the first round of the Champions League.
Looking at the technical level and the physical capabilities of both teams, we find that Real Madrid is the closest to winning and grabbing the three points, in the match, but Italian coach Carlo Ancelotti refuses to compromise his opponent in order to avoid surprises.
Real Madrid is looking forward to defeating Sheriff Tiraspol in order to snatch the top spot in Group D of the European Champions League, especially since the match is at its home and among its fans.
The Real Madrid team is moving at a steady pace in the Spanish League this season, as it tops the top of the League with 17 points, and one point behind Real Sociedad, the runner-up, with 16 points.
Real Madrid has played 7 matches in the Spanish League this season, divided between 5 wins and 2 draws.
Real Madrid will be armed in today's match, against Sheriff Tiraspol, with French star Karim Benzema, the top scorer in the Spanish League with 8 goals.
In addition to French striker Karim Benzema, Real Madrid has a number of distinctive elements, led by Vinicius Junior, Marco Asensio, Rodrygo Jose, David Alaba, Fede Valverde, Camavinga, Militao, Casemiro, Luka Modric and Nacho Fernandez.