The Spanish club Real Madrid was keen to provide support to the citizens of La Palma, one of the Spanish Canary Islands, after volcanic flows erupted from one of the volcanoes on the island, which led to the destruction of hundreds of homes and the displacement of a large number of citizens.
And the official page of the Spanish club, via Instagram, published a picture of the lava, and wrote, "All our love and solidarity with the people of the island of La Palma, we send all our feelings to them in these circumstances."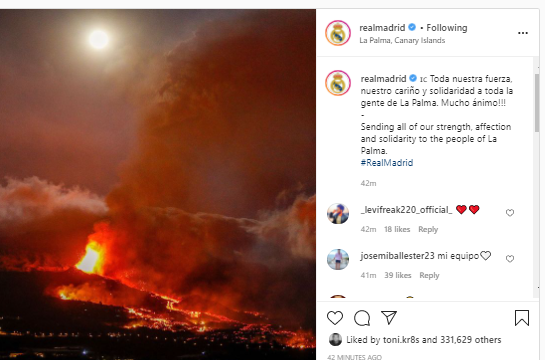 Post Real Madrid to support the people of La Palma
This comes as local residents said that lava flows destroyed hundreds of homes on the island of Palma, one of the Spanish Canary Islands, According to the Russia Today website, the authorities say that 130 homes were damaged, while local residents say that the disaster and the extent of the damage is much greater than what was announced..
The eruption of the Cumbre Vieja volcanic mountain range began in the municipality of El Paso, in the afternoon of September 19, Prior to that, the Spanish National Geographic Institute recorded an increase in seismic activity and the occurrence of more than 25,000 light earthquakes on the island within a week, According to the latest data, more than 100 homes were damaged, and 5,000 people were forced to evacuate.