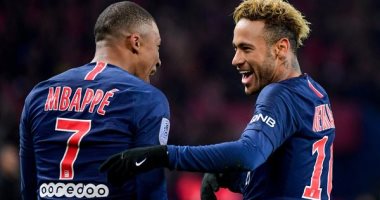 Press reports revealed today, Tuesday, that the crisis that took place between the Brazilian Neymar and his colleague Kylian Mbappe may precipitate the latter's departure from Paris Saint-Germain during the next newspaper transfers.
According to the Spanish newspaper, "AS", the recent crisis of Kylian Mbappe with his colleague Neymar in the first football team at Paris Saint-Germain may open the door for the Frenchman to move to Real Madrid in the next winter Mercato in January 2022.
Mbappe appeared angry during the last confrontation with Paris Saint-Germain and Montpellier in the French League, after he complained that Neymar had not passed to him after the Brazilian made a goal for his colleague, Julian Draxler, in the same meeting..
Mbappe described his Brazilian colleague as a clown after passing to Draxler, to show how bad the relationship between Mbappe and Neymar is, an ideal situation that Real Madrid should take advantage of, especially since the 2018 World Cup champion is still rejecting renewal offers from Paris Saint-Germain.
And the newspaper added that everything that is happening confirms the difficulty of the possibility of having 3 distinguished players in Paris Saint-Germain in the offensive line after joining, Lionel Messi, but the team is obliged to involve Mbappe in the matches until next January, which is the date during which the initial agreement and negotiation with Real Madrid can be made..
Moreover, according to AS, fanatical Paris Saint-Germain fans are not helping the management to convince Mbappe to stay as the player hears whistles against him in every match, because they are very angry at the idea of ​​the player not wanting to renew..
He scored 4 goals and made the same, this season, on the other hand, Messi has not scored or assisted yet, while the Brazilian made two goals and scored a goal against Lyon only..
It is expected that Mbappe will lead Paris Saint-Germain, France, against Manchester City, England, in the confrontation scheduled for it at exactly nine o'clock on Tuesday evening, at the "Park of the Princes", in the top of the second round of competitions for the group stage of the European Champions League competition in the current season 2021-2022.