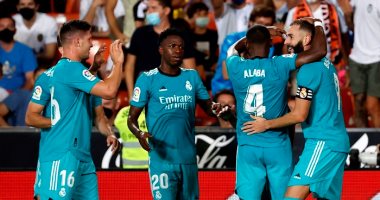 The competitions of the fifth round of the Spanish League competition witnessed special scenes, most notably in the match between Real Madrid and Valencia, which the Royal won with two goals against one goal to be unique in the competition.
The Spanish agency, EFE, monitored the most prominent scenes of the fifth round of the Spanish League:
Vinicius Celebration
The Brazilian Vinicius was decisive, while going through the best period of his career, in the remontada that Real Madrid achieved at the Mestalla stadium in the last minutes of the match, and Vinicius celebrated a great celebration after scoring the equalizer and making another goal for Karim Benzema. He signaled from the stadium, "I'm here," lit up the stands of the Valencia fans after recovering his usual danger.
Joao Felix and "You're Crazy"
Atlético de Madrid's Felix was subjected to a strain during the match against Athletic Bilbao, and when he moved his arm back, he hit Vinsidor's face. The result was a yellow card that made matters worse, as there was a worse reaction from Felix, who objected and asked for an excuse from referee Khel Manzano, who sent him off seconds later after the player told the referee that he was "crazy" on more than one occasion and with gestures. Felix left the dressing room angrily and was only 17 minutes on the field. He had to wait to find out how many matches he would be suspended for as a penalty.
Lopetegui signal and penalty kicks
Seville coach Julen Lopetegui was left out of his mind when referee Matteo Lahoz awarded a penalty for a handball by Diego Carlos after using VAR technology. "He is one of the best referees we have, but he gets confused every time he turns to the mouse," Lopetegui said during the press conference after the Real Sociedad match, stressing that the handball was not intentional because no one could jump with his arms hidden. Lopetegui suffers from penalty kicks, as his team was awarded one in the first round of the Champions League and another against Sociedad in La Liga.
Falcao kiss
Veteran Colombian striker Radamel Falcao expressed his joy by scoring his first goal in his first match with Elche, the fifth team in his career, and after about 10 minutes of landing on the field thanks to a magical pass from Bate Cis and directing an unstoppable shot. Falcao accepted the club crest printed on the team.
Mitchell's frustration
The look of disappointment on Getafe coach Mitchell's face during the match against Rayo Vallecano at the Vallecas stadium says a lot. His team was visibly despondent as problems multiplied, with Juncteau seriously injured, leaving the field on a stretcher. The fifth consecutive defeat is a nightmare for the coach that got him into trouble. This is not the first time that Mitchell has lost the first five rounds of the league, as it happened before when he coached Malaga.