Sports newspapers published this morning in Europe were interested in many important events, led by Real Madrid's deadly victory over Valencia with two goals against a goal in the Spanish League, the exciting return of Manchester United against West Ham, and the death of Jimmy Greaves, the legend of England and Tottenham.
The Spanish newspapers celebrated Real Madrid's victory over Valencia and snatched 3 valuable points from the bat's fangs at the Mestalla stadium.
The newspaper "Marca" published a picture of Benzema and Vinicius Junior and commented, "The two leaders, Real Madrid Ancelotti, dominate the league alone, Vinicius and Benzema return in the last half, Carvajal's injury."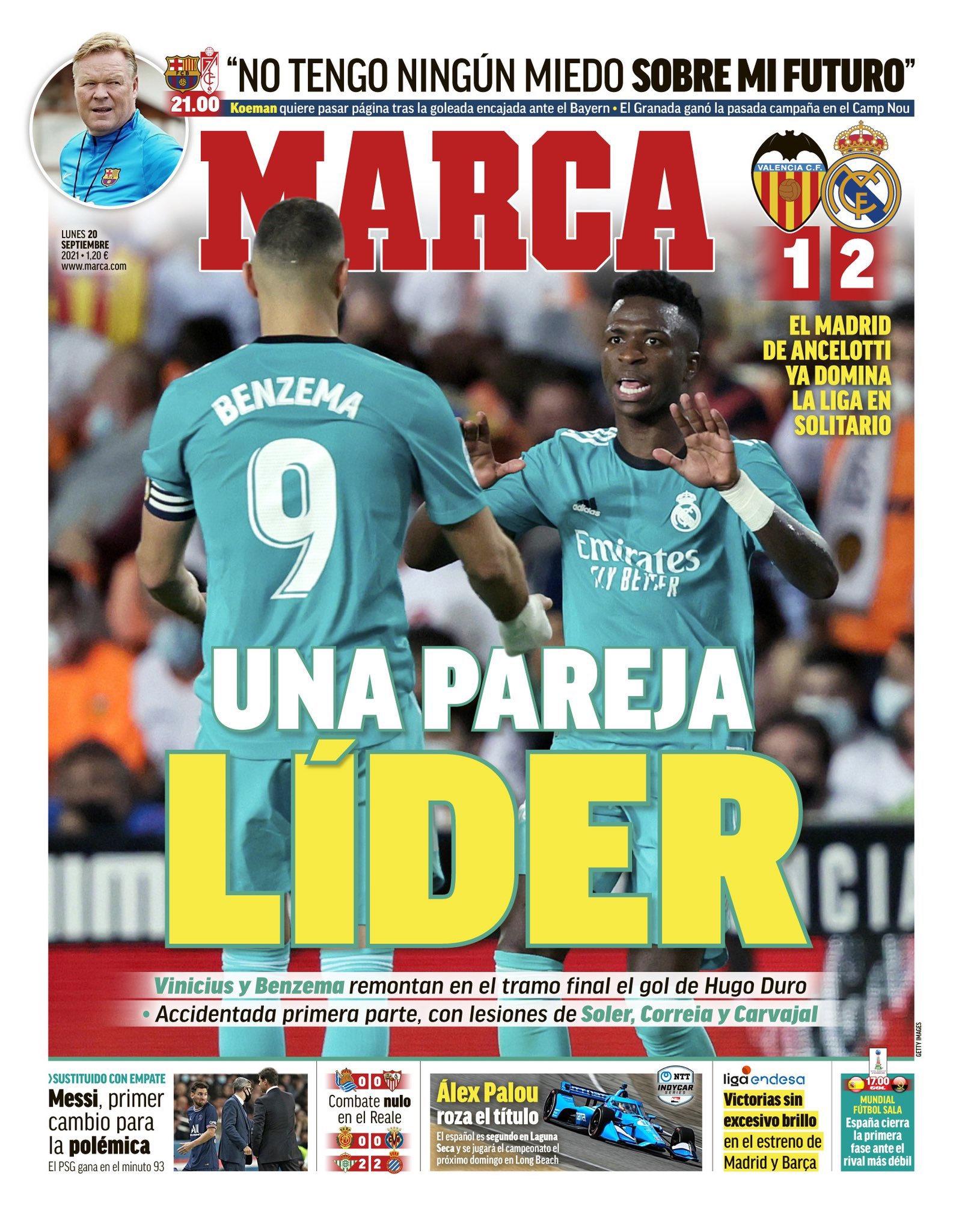 mark
While the newspaper "AS" commented, "Real Madrid is immortal, Ancelotti's team does it again: Rimontada in Mestalla with two goals, from Vinicius and Benzema, in the last four minutes, the fall of Valencia was due to fatigue."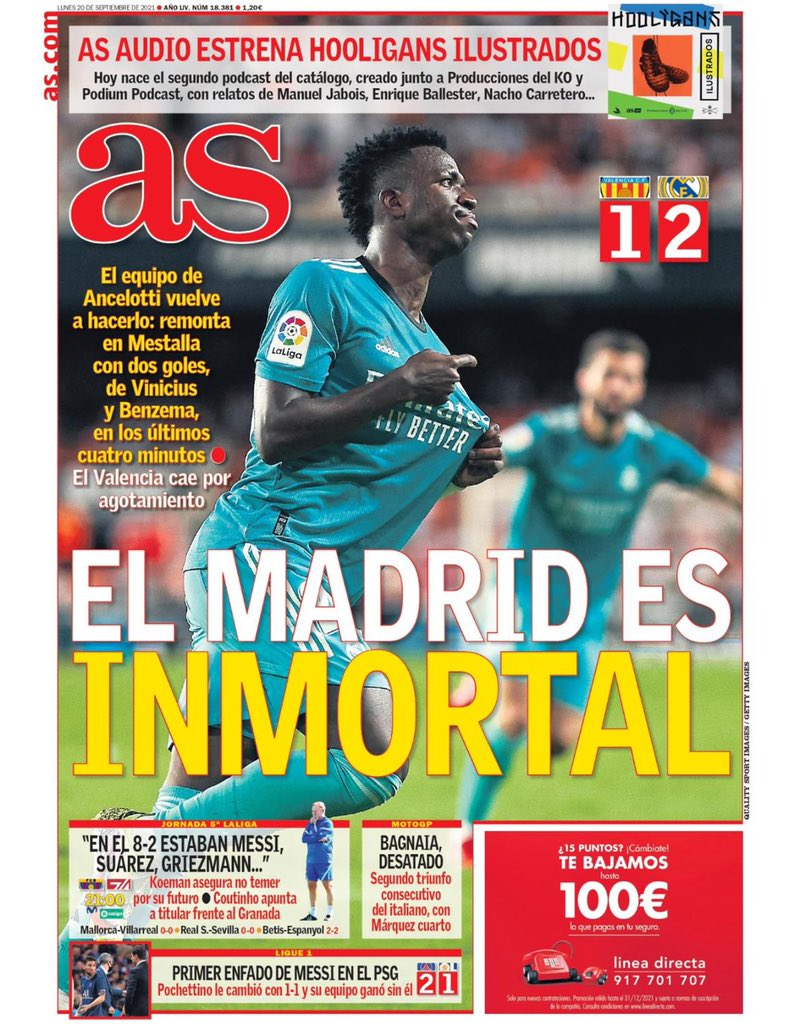 ace
And the Catalan newspaper, "Mundo Deportivo", spoke about the Barcelona match against Granada, which is scheduled to be held at nine in the evening, as part of the fifth round of the La Liga competition, saying, "Without fear, everything indicates that the young Baldi and Coutinho will be present from the beginning of the match, the team is obligated to improve In his image, Koeman knows that winning today is routine for his continuity, but he confirms that he is not afraid by saying: "I am not afraid for my future."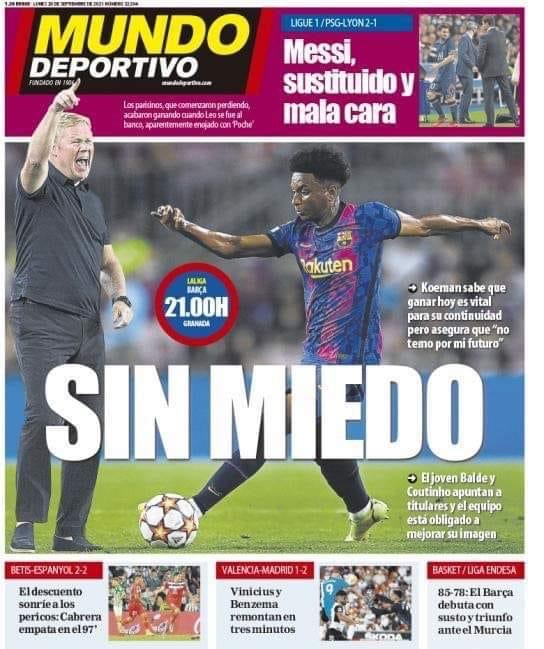 Mondo
While the English newspapers reported the death of England and Tottenham legend Jimmy Greaves, and the return of Manchester United against West Ham with a valuable victory in the Premier League.
The newspaper "Mirror" said, "Unbelievable .. a legend for the club and the national team, Kane leads the farewell to Greaves."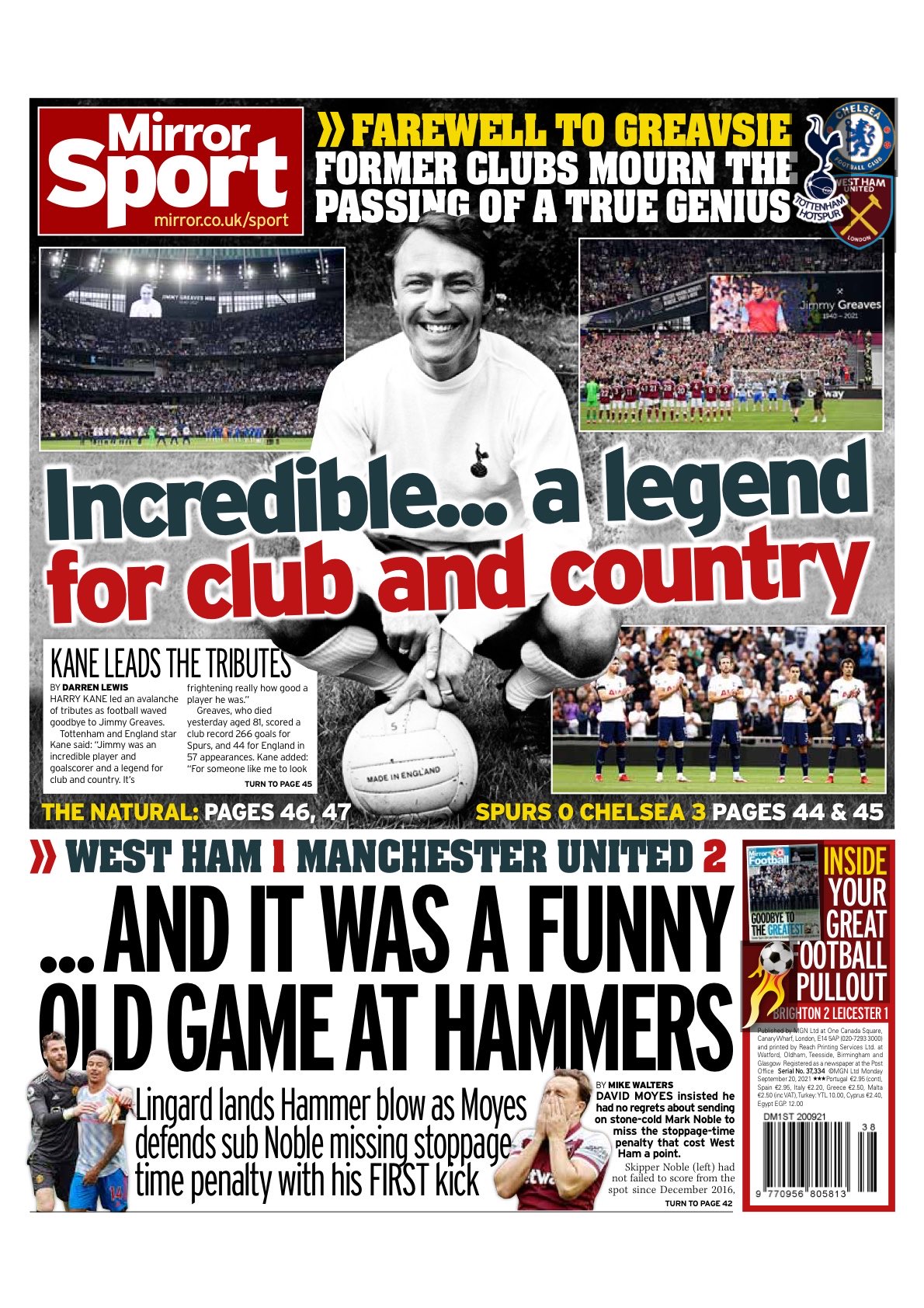 Mirror
She added about the West Ham match against Man United, "An entertaining meeting at the Hammers Stadium, Lingard shocked West Ham and David entered Mark Noble as a substitute to miss a penalty kick in the last minutes of the first touch."
The Daily Star headlined, "Never forget you, all including rivals unite to bid Greaves' farewell."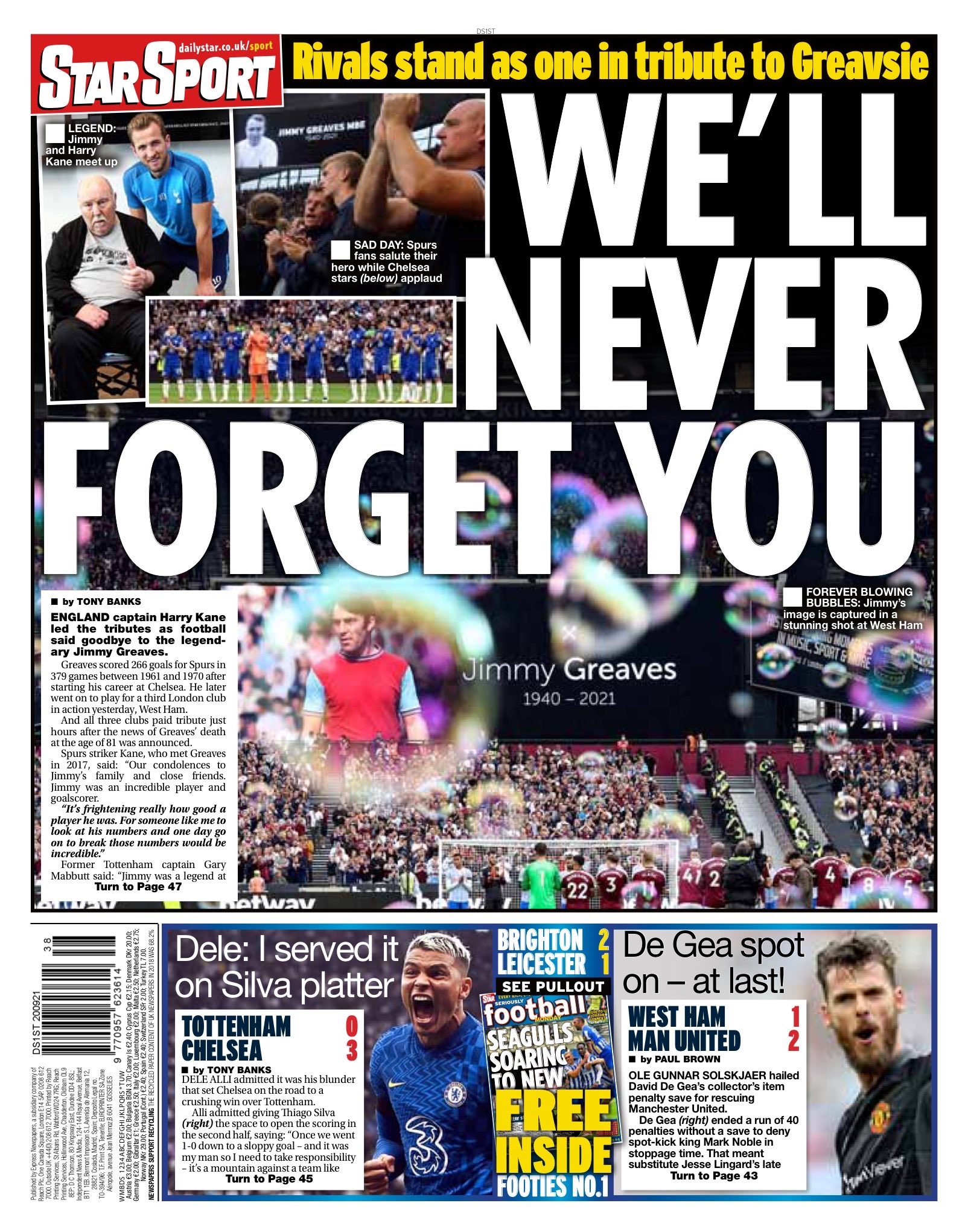 Daily Star
She alluded to De Gea's wonderful penalty save from West Ham, which led United to a 2-1 victory, saying, "De Gea saves a penalty… at last."
When going to Italy, Juventus and Milan tied 1-1, at the top of the fourth round of the Italian League, the covers of Italian newspapers issued this morning, Monday.
La Gazzetta dello Sport reported, "Milan remains at the top, Juventus remains at the bottom, Pioli holds Inter in the lead, Napoli awaits today, Allegri is in the penultimate position, Morata scored early, Rebic is fair and in the end Milan almost won, Max "If you draw in matches like this, you won't win the leagues, I made mistakes too."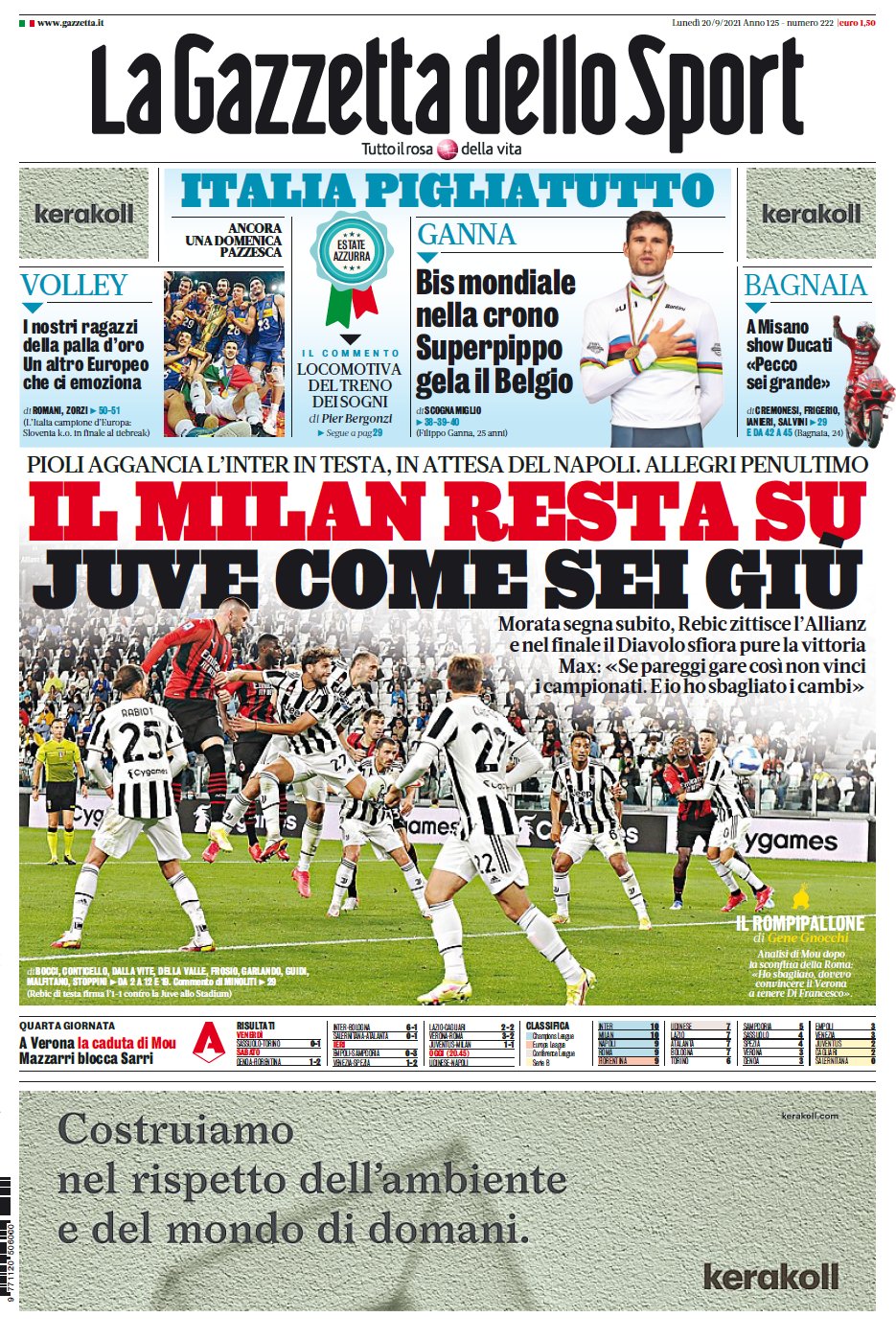 La Gazzetta