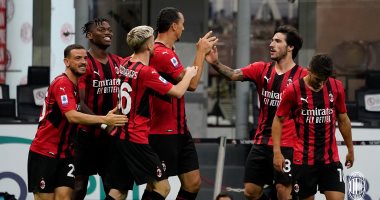 Ante Rebic, AC Milan striker, scored the first goal against his counterpart Juventus, in the 76th minute of the confrontation that is currently taking place between them at the "Allianz Stadium", at the top of the fourth round of the Italian Serie A competition in the current season 2021-2022, the result is a draw. 1-1.
Milan squad against Juventus
Goalkeeper: Mike Maynan
Defence: Theo Hernandez, Kier, Romagnoli, Tomori
Midfield: Casey, Salemikers, Tonali
Forwards: Rafael Liao, Rebic, Brahim Diaz
Juventus lineup against Milan
Goalkeeper: Chesney
Defence: Chiellini, Bonucci, Danilo, Alex Sandro
Midfield: Bentancur, Cuadrado, Locatelli, Rabiot
Forwards: Morata, Dybala, Cuadrado
Milan enters the summit tonight, led by its coach Stefano Pioli, and is third in the Italian league standings, with 9 points from 3 matches.
Milan is seeking to achieve a valuable victory away from home against Juventus today, in order to achieve the full mark and continue its victories to maintain the top of the Italian league standings.
On the other hand, Juventus, the record holder in the number of titles in the Italian Serie A, occupies the seventeenth place in the standings this season, as Juve won one point out of a total of 3 matches played in the competition.
Juve, led by coach Massimiliano Allegri, failed to achieve any victory so far after 3 rounds of the Calcio championship, after drawing in the opening meeting with Udinese with two goals each, then losing in two meetings against Empoli with a goal in return, and then falling against Napoli with two goals against a goal..
Milan is missing at the top of Juventus many stars, led by Zlatan Ibrahimovic, Olivier Giroud, Bakayoko, Calabria.