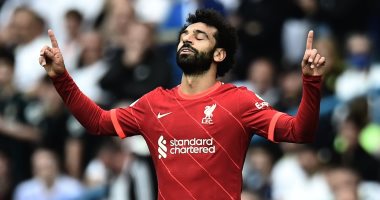 Jamie Redknapp, the former Liverpool star and technical analyst for the British "Sky Sports" network, confirmed that the Egyptian pharaoh, Mohamed Salah, the Reds' top scorer, is able to shine against Manchester City in the next match, scheduled to be held at 5:30 pm at the "Anfield" stadium, at the top of the matches of the seventh round of the league competitions. English Premier League for the current season 2021/2022.
In his analysis of the upcoming match between Liverpool against Manchester City, Jimmy Redknapp said that Mohamed Salah is at the top of his level and could be the star of the Reds in the match next Sunday.
Redknapp added: "I saw Mohamed Salah and watched him play so well as I have never seen him in my life."
And the former Liverpool star explained: "Mohamed Salah is confident, strong and enjoys getting Virgil van Dijk back to the team and knows that he is playing in a team that can win the English Premier League again, he is in great shape and I am happy to watch."
And the former Liverpool star stressed: "Pep Guardiola played a great match against Chelsea, especially when he plays without an honest striker, because the team needed Harry Kane and they would have been better with him."
Redknapp continued his speech during the next match: "Manchester City may need a tactical adjustment in the next match to beat Liverpool, because the latter will not play in the same way as Chelsea."
Liverpool vs Man City
Liverpool remains the only team that has not lost in the Premier League this season, leading by one point from City, Chelsea, Manchester United, Everton and Brighton & Hove Albion.
Sunday's match gives Jurgen Klopp's team an opportunity to widen the gap with City and also avenge the painful 4-1 loss last season at Anfield in the middle of empty stadiums.
With defender Virgil van Dijk back this season and regaining his ferocity, Liverpool look like the team that rivaled City in the 2018-19 season's blazing race to win the title.