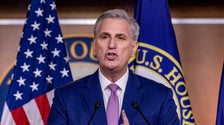 McCarthy also said he agreed with former Vice President Mike Pence's comment last week that there is no room in the Republican Party for "apologists for Putin."
Trump has since described the invasion of Ukraine as "a Holocaust" and "a horrible thing that's happening," urging Russia to stop killing Ukrainians. However, he has not walked back his praise of Putin. Trump has also repeatedly claimed that conflict would not have happened if he was still president.
Some of his allies on the far-right have behaved similarly.
When Russian aggression against Ukraine had not yet escalated into a full-scale invasion, Fox News host Tucker Carlson defended Putin, parroting Kremlin talking points in an infamous rant on Feb. 22 with such efficacy that Russian TV later aired segments of his broadcast. He has since shifted his tone, admitted he was mistaken, and has instead sought to blame President Joe Biden for the war.