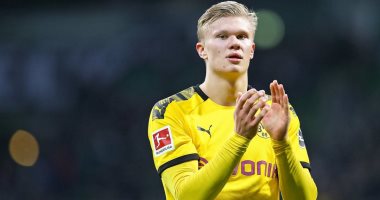 According to press reports, the Norwegian talent Erling Haaland will remain in the spotlight for many years to come, especially after the great technical levels that the player provides in the German Bundesliga with his team Borussia Dortmund, as the player received new negotiations to sign him during the upcoming transfers.
The journalist, Fabrizio Romano, with the "Sky News Italian" network, revealed the contacts of the past days that Haaland's father and his agent received from European clubs, led by Paris Saint-Germain and Bayern Munich, to obtain the player's services in the upcoming transfer period.
Haaland led Borussia Dortmund to victory over Bayer Leverkusen, winning four goals against three, in the confrontation that took place between them yesterday, Saturday, at the "Bay Arena", in the fourth round of the German League Championship 2021, after turning Delayed by two goals when the score was 3-1 to the precious victory.
Borussia Dortmund scored the goals of the Norwegian star Erling Halland in the 37th and 77th minutes from a penalty kick, Julian Brandt in the 49th minute, and Rafael Gerrio in the 71st minute of the match.
While Florian Vertz scored the goals of the hosts in the 9th minute, then Czech Patrick Shek added the second goal in the first minute of the lost time in the first half (54 + 1), and Moussa Diaby scored the third goal in the 55th minute of the confrontation.
With this result, Leverkusen ranked fourth in the standings with 8 points, while Dortmund raised its score to 9 points, in second place behind leaders Wolfsburg with 12 points, which beat Gruether Fort 2-0.