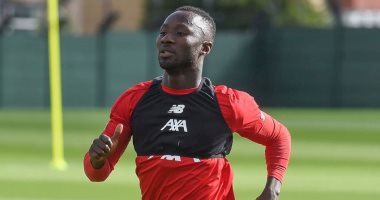 German press reports revealed that the Guinean international Naby Keita, the Liverpool midfielder, is hesitant about signing a new contract with the Reds, amid concerns about his role in Jurgen Klopp's squad.
Keita's contract with the Reds extends until 2023, but he will not sign a new contract if he does not participate more with Liverpool during the current period.
Naby Keita made just 34 Premier League appearances over his four seasons with Liverpool, as he struggled to get into the midfield of Klopp's squad.
And according to German newspaper Bild Sport, Keita may ignore contract extension talks if Klopp does not start using him as a more important player.
Keita has played in four out of five league matches this season, but has only started as a starter in two matches.
And the report spoke that Liverpool could get rid of the 26-year-old if he did not change his position on the renewal for fear of losing him for free.
In a related context, Liverpool club officials began moving to renew the contract of Naby Keita, the Reds midfielder, in the coming days, and the Guinean player is linked to a contract with Liverpool, which ends in June 2023.
Liverpool had decided to renew the contracts of Virgil van Dijk, Brazilian Fabinho, Andy Robertson and Alisson Becker, and the Egyptian star Mohamed Salah, Senegalese Sadio Mane and Guinean Naby Keita remained.
And the English newspaper "Daily Mail" reported that Liverpool began the step of renewing the contract of the Guinean Naby Keita, the Reds midfielder, which expired in June 2023, especially after the player's outstanding performance with the team over the past years, since his arrival from the German Leipzig.
The newspaper added that the Liverpool administration is afraid of a repeat of what happened with the Dutchman, Georginio Wijnaldum, in the file of renewing the contract of the Guinean Naby Keita, with his departure for free after the end of his contract, so the door to negotiation was opened in order to stay as long as possible inside "Anfield".