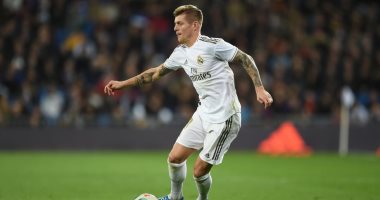 Press reports revealed that Real Madrid is the main reason for the retirement of Toni Kroos, the royal star, to play international with the German national team.
Toni Kroos has retired from international football with Germany, after exiting the last 16 Euro Championship against England.
The Spanish newspaper "AS" reported that Toni Kroos decided to retire from international football with the German national team last summer, in order to take better care of his body and focus on performing his work at Real Madrid for the remainder of his contract.
She added that Toni Kroos wants to retire at Real Madrid, as his contract with Al-Maringi expires on June 30, 2023, and then he will decide at that time if he will renew his contract or leave.
For his part, German international Toni Kroos, the Real Madrid midfielder, is close to participating with the Royal in the current season 2021-2022, after recovering from injury.
Toni Kroos has been absent from Real Madrid since August 1, after suffering a pubic injury that prevented him from opening the local season.
According to the Spanish newspaper, "Marca", Toni Kroos began to put forward his return to Real Madrid's list again, after training with the ball in the royal training, before facing Celta Vigo in La Liga.
She added that Toni Kroos may join Real Madrid's list against Celta Vigo in the Spanish League, which is scheduled to be held on September 12, in the fourth round of the La Liga competition.
The newspaper pointed out that Real Madrid coach Carlo Ancelotti refuses not to risk star Toni Kroos for fear of aggravating his injury, but he will be included in the list for the Celta match.
Real Madrid will face Celta Vigo on September 12 at the opening of the new Santiago Bernabeu stadium.
It is worth noting that Real Madrid is at the top of the Spanish league standings with 7 points, while Valencia is runners-up with a goal difference.