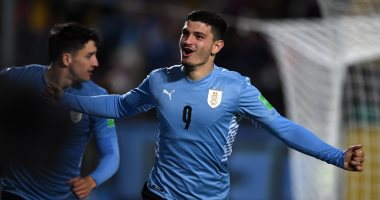 The Spanish club Real Madrid continues its search for young talents in the international markets, and this time it has put on its list in recent weeks the name of Agustin Alvarez Martinez, the spearhead of the Uruguayan team Peñarol..
Agustin is 20 years old, and he made his first appearance in the Uruguay shirt last week, where he performed well in the Bolivia match and scored one of his country's four goals..
Federico Valverde, the Real Madrid midfielder and the owner of one of his team's goals in Bolivia, was one of the players who was most pleased with the possibility of including Agustin. There is a strong friendship between the two players since they played together in the Peñarol team..
Agustin played throughout his career for Peñarol only, and in his junior categories, he played 170 games in which he scored 113 goals..
The player is one meter and 80 centimeters tall, and plays in the center of the outright striker. Agustin started his second season with Peñarol's first team, with him he scored 18 goals in 38 matches in local competitions, in addition to 9 other goals he signed in 12 matches in the Copa Sudamericana..
The market value of Agustin on the Transfermarkt website is 3 million euros, which is a value within the reach of the Real Madrid administration. Despite that, Peñarol renewed the player's contract last April until 2024 and set him a penalty clause of 20 million euros..
Peñarol's administration is aware that Agustin will move to a European club sooner or later, especially in light of his good performance with the Uruguayan national team, taking advantage of the absence of Luis Suarez and Edinson Cavani from the team during the recent international matches window..
In the event that Real Madrid signs young striker Agustin, he will play in the reserve team under the leadership of Raul Gonzalez.